Internet Radio Recorder – 5 Best Methods to Record Online Radio with Ease
When you need to record Internet radio offline, what are the best Internet radio recorders to capture the files with the original quality? Whether you need to record audio files from the online radio stations, or even capture the radio streaming via radio app on your iPhone, just learn more about 5 free Internet radio recorder software review and choose the desired one according to your requirement from the article.

Internet Radio Recorder
Part 1: 3 Best Internet Radio Recorders to Capture Online Radio Files
Top 1: 4Videosoft Screen Capture
4Videosoft Screen Capture is a versatile Internet radio recorder that enables you to capture online streaming audio and Internet radio. It has the schedule-recording feature to record the programs from the radio station automatically. Moreover, you can enable the audio/video settings, add annotation/mouse cursor/watermark, and even manage the recording.
4Videosoft Screen Capture
Record Internet radio, online streaming audio and screen video with ease.
Tweak the frame rate, sample rate, video codec, audio channel and more.
Add annotations, watermark, callouts, lines, arrows, texts, and others.
Preview, edit and manage the recorded audio files from Internet radio.
Step 1Download and install Internet radio recorder, launch the program on your computer. Go to the Audio Recorder menu to capture the audio files from Internet radio and other channels. You can also tweak the audio codec, sample rate and audio volume as desired.

Step 2To capture the Internet radio files, you should enable the System Sound menu and adjust the audio volume. Then disable the Microphone menu to avoid any noise from your computer. After that, you can click the REC button to capture Internet radio.

Step 3Once you have captured the desired radio files, you can click the Save button to save the recording to your computer. Then you can preview the videos, rename the files, add to another folder, share to the social media websites, or delete them accordingly.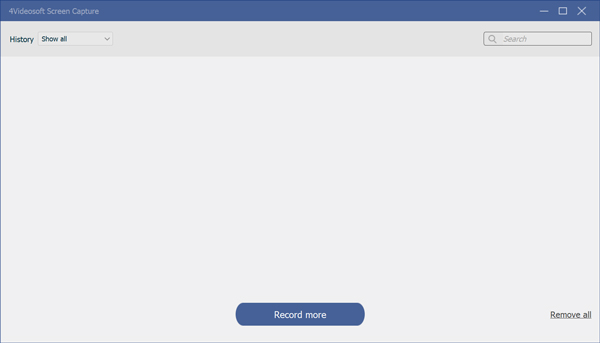 Top 2: Audacity
Audacity is an open source Internet radio recorder that lets you easily import, mix, and combine audio tracks. It also offers some flexible editing down to the sample level and spectrogram and spectral views for analyzing frequency response.
Pros
Provide editing features for sound effects, trimming music tracks and more.
Supports capture Internet radio with multi-tracks and with batch processing.
Convert, combine and record in either 16-bit or 24-bit radio from Internet.
Cons
Some editing tools are inconsistent in design and too difficult to master.
Do not support MIDI recordings or have any pre-installed recording material.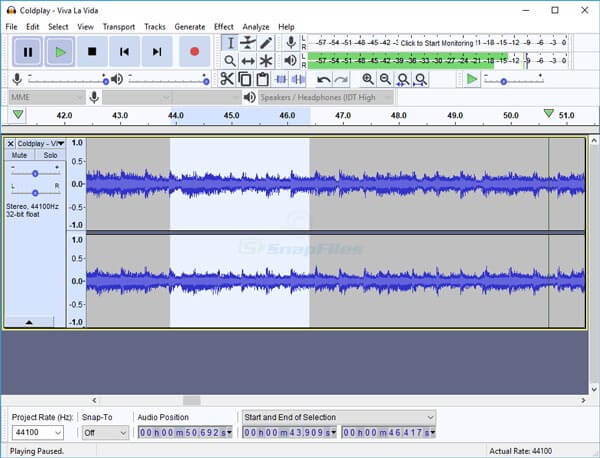 Top 3: Screamer Radio
Screamer Radio is another free Internet radio recorder that comes with more than 4000 preset stations and that list is regularly updated. You can input your own URLs for a specific radio station. Of course, you can simply use the program to listen to the radio files.
Pros
Quick search by name or part of a URL, navigate by tags and favorite radio.
Provide a wider choice of music from audio stations and fewer ADs easily.
Able to play back streams using WMA, MP3, Ogg Vorbis or AAC streams.
Cons
It does not have a schedule recorder to capture the radio files automatically.
Some audio applications limit that or make you buy the Pro version only.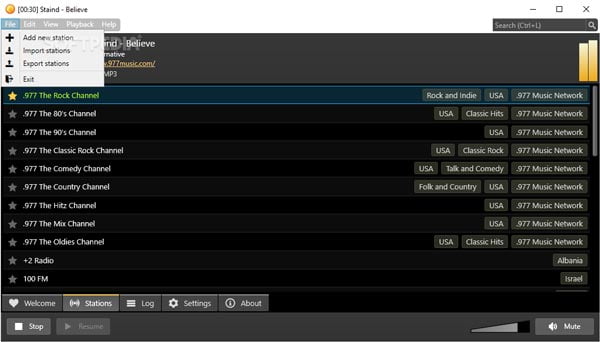 Part 2: Top 2 Internet Radio Recorders for iPhone/iPad/Android Phone
Top 4: Multi-Track Song Recorder
Multi-Track Song Recorder is an Internet radio recorder for iPhone with MTSR feature, which enables you to record up to 4 tracks. It includes a Metronome with options for creating perfect loops and duplicates your recording to loop as many times as you want.
Pros
Option of viewing your recordings as Waveforms or with Volume Meters.
Provide independent volume control on each track for simple mixing.
Save your current song or all saved songs directly to your Dropbox account.
Cons
There is an echo on all of your song parts during the recording process.
It has nothing to do other than loop or change volume for listening.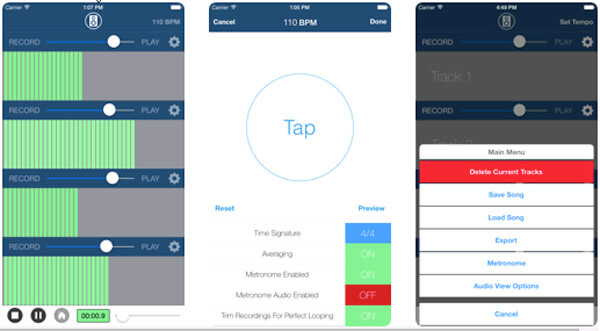 Top 5: Voice Recorder & Audio Editor
Voice Recorder & Audio Editor is more than an Internet radio recorder, but also a memo app that does a great job of recreating the look of physical recorders of the past for iPhone. It offers unlimited recordings and cloud support through iCloud Drive and more.
Pros
Download recordings by USB cable AND WiFi Sync onto your desktop.
Provide 16 different tape deck & cassette designs for recording radio.
Simply rename the recording, edit the files, or share to social media sites.
Cons
Need to unlock advanced features like transcription, text notes, etc.
Not possible to record phone calls using the built-in microphone.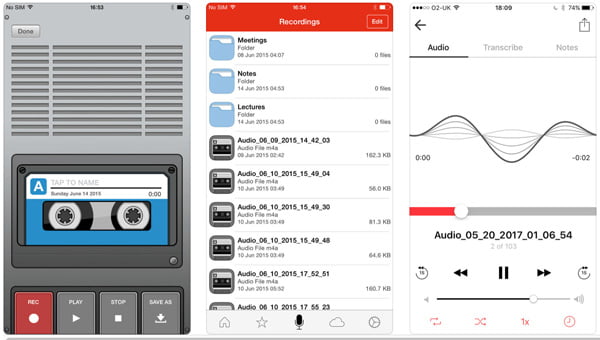 Part 3: FAQs about Internet Radio Recorder You Should Know
1. What are The Default Internet Radio Recorders for iOS?

When you need to record the Internet audio files on your iPhone or iPad, you can simply take advantage of the default Voice Memos app, or even the screen recording feature as the default Internet radio recorders, which also provides the basic editing features to trim the recorded radio files.

2. What are the Best Internet Pop Radio Stations for Recording?

If you need to capture the best music files from Internet Radio, here are some online streaming sites, as well as the free Radio app you should know, KIIS - Los Angeles, Z100 - New York, BBC Radio 1, Star 94 – Atlanta, XM Top 20 on 20, Pandora, SiriusXM, iHeart Radio, Radio FM and Stitcher.

3. How to Record Internet Radio with Windows Voice Recorder?

Once you have launched the Windows Voice Recorder, you can click the Recording button before the start the radio streaming. The recordings are auto-saved and stored in the Documents folder. But there are limited features to tweak the settings within the default Internet radio recorder.
Conclusion
If you need to capture the audio files from Internet radio stations, you can learn more about the 5 best Internet radio recorders from the article. When you need to capture the radio files with the original quality, or even tweak audio settings, 4Videosoft Screen Capture is a versatile audio recorder you have to take into consideration.