Best Way to Copy Blu-ray to a Blank Blu-ray Disc with Original Quality
Having watched a marvelous Blu-ray movies at your friend's home made you want to appreciate it at home whenever possible? Or you want to reduce the damage of your original Blu-ray disc. Now you needn't to consider of where to purchase the same one with the same quality. Blu-ray Copy can help you copy the Blu-ray movie to a blank Blu-ray disc with original quality,
What you need to do is just download the free trial version of Blu-ray Copy to have an experience.
After downloading, install and launch the program on your computer. Then follow the steps below to experience the wizard Blu-ray copy.
1 Choose the source and target
Insert the Blu-ray disc you want to copy and click "File" to select "Load Blu-ray Disc" to add the source Blu-ray movie to the program. Or you can click "Source" drop-down button to load the Blu-ray disc directly. Then click "Target" drop-down list to find the blank disc you will copy Blu-ray to. Also you can choose to copy the Blu-ray movie to a Blu-ray folder or ISO file.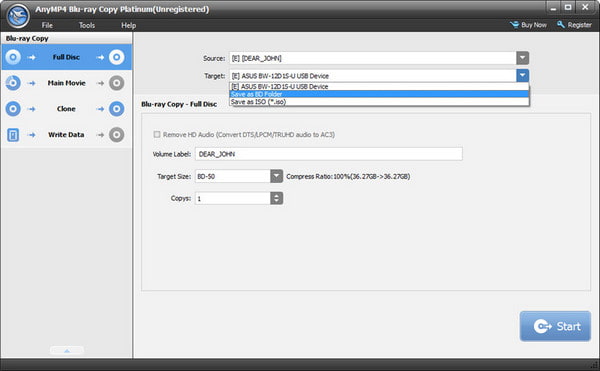 2 Choose a Blu-ray copy mode
To copy a Blu-ray to a Blu-ray disc, there are four Blu-ray copying modes are listed for you to choose. Just click the corresponding node to choose the mode you need. If you want to copy the whole Blu-ray movies including the main movie, titles, trailers and more, please choose "Full Disc". Select "Main Movie" to copy the main movie or a specific chapter. Also you can make the 1:1 bit-to-bit clone or choose the "Write Data".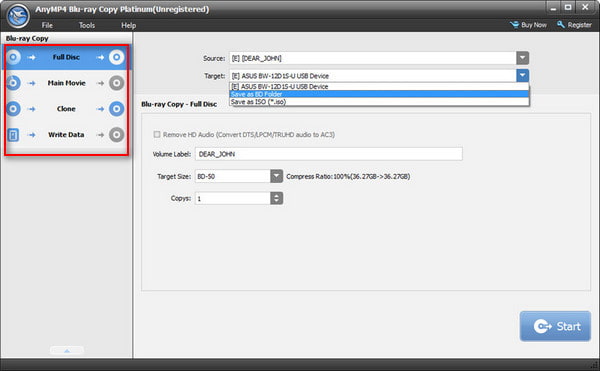 It allows you to rename the output Blu-ray volume label. And please choose the target size and the numbers of copies. If you select the "Main Movie" mode, you need to click "Next" button to do these.
Step 3 Copy Blu-ray to the blank Blu-ray disc
Click "Start" button on the right-bottom of the interface to start the Blu-ray copy. It can be finished in a very short time.