Overview
Coming across one multi-pages large PDF file? Confused to how to make it smaller and easier to read? A new more handy program will help you solve the problem. It is PDF Splitter. PDF Splitter is an easy-to-use PDF Splitting software with the intuitive interface.
With this PDF Splitter, you can assign every n page of a PDF file to carry on a one time division exactly, split PDF file by bookmarks easily, split PDF file according to your preference specially and split the whole PDF file averagely. Furthermore, PDF Splitter provides two ways to save your finished splitting PDF files: save in the same folder as the source document, save in the customized directory. Just have a try, and experience the dissimilar enjoyment which this PDF Splitter brings for you!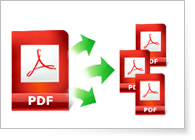 Exactly split PDF files
PDF Splitter is available to split multi-pages PDF file by every n page, so that you can get several small and readable ones. For example, a 100 pages PDF file, you can split it into ten small ones, each one contain ten pages.
PDF Splitter enables you to split PDF files by bookmarks. You can flexibly choose the split level and customize the settings to split PDF files more efficiently and quickly.
This PDF Splitter allows you to choose the specific pages that you want to split and combine them into a new PDF file. Also you can select the pages either by setting page ranges directly. The rest of the pages can also be generated into a new PDF file.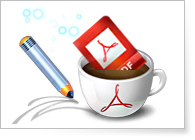 Intuitive and Convenient
With PDF Splitter, you can split a PDF file into several same number pages PDF files. It really saves your time if you need to extract different parts from the large PDF file for other use.
You can save the splitting PDF files in the same folder as the source document and save in the customized directory alternatively.
PDF Splitter is easy to operate even for new beginners. Moreover, you can get the number of the input PDF files and the size from the interface directly.
Reviews
All of my friends recommended this software for me. I purchased one yesterday. It is nice to use just as they told.

-Sonne

I purchased one software. It is really a mighty PDF Splitter.

-Varkosn
Our Users Are Also Downloading