AVI to MPEG4 – Convert AVI to MPEG4 on PC and Mac
AVI to MPEG4 Converter is an advanced Total Video Converter that can convert any video formats among MP4, M4V, AVI, WMV, MOV, etc., along with HD and 4K UHD videos. It supports all the video and audio formats, including SD, HD, and 4K UHD videos. Besides, it adopts NVIDIA® CUDA™ technology, which provides you with the fastest conversion speed (6X faster), completely support multi-core CPUs.

AVI to MPEG4
Part 1: Step-By-Step to Convert AVI to MPEG4
Step 1Download and install the program, then double click it to run it, and then you'll see the main interface of the program.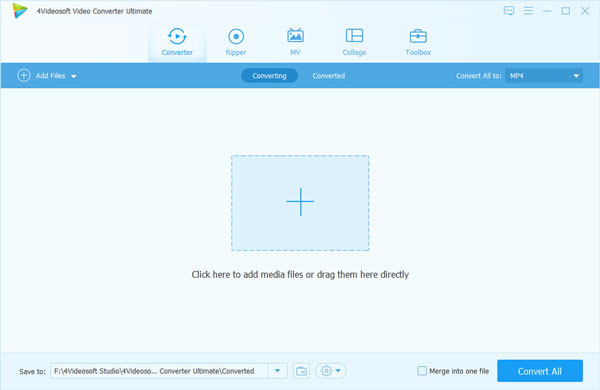 Step 2To add your AVI files, click the "Add Files" button. Or you click on the "+" icon to upload them to the program.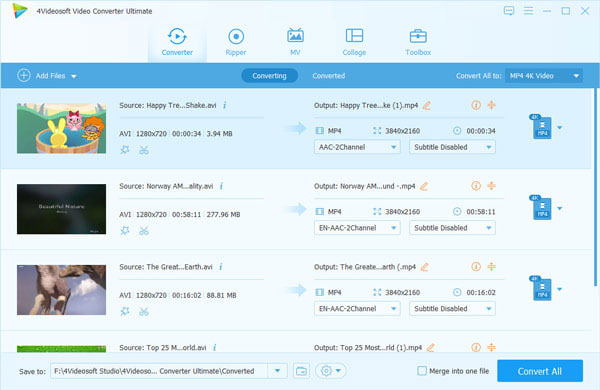 Step 3Click the format icon, find the "Video" tab, and then choose the MP4 as the output format. Then, you need to click on "Custom Profile" to select MPEG-4 as the encoder.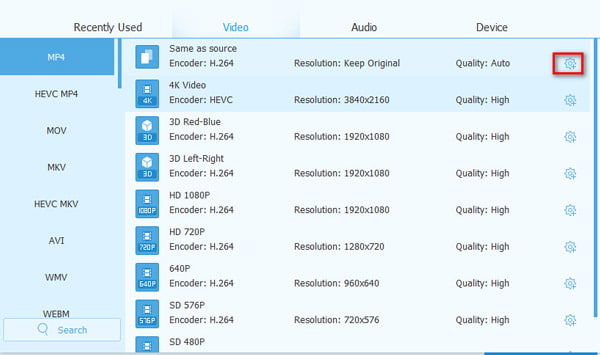 Step 4To edit your video file, you can click the "Edit" icon to enter into the Edit Window. Here it offers five options including Rotate & Crop, Effect and Filter, Watermark, Audio, and Subtitle.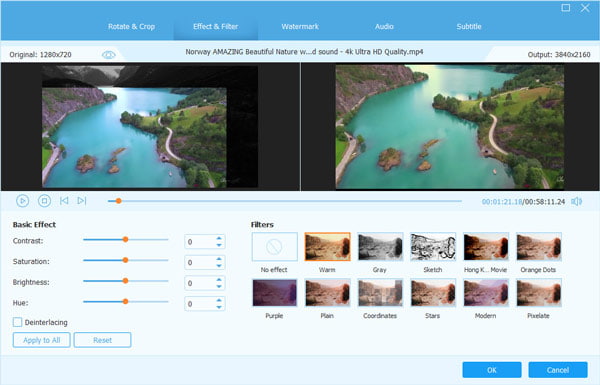 Part 2. AVI VS MPEG4
What Is AVI?
AVI is a subformat of the Resource Interchange File Format (RIFF), which divides a file's data into blocks, or "chunks." Each "chunk" is identified by a FourCC tag. An AVI file takes the form of a single "chunk" in a RIFF formatted file, which is then subdivided into two mandatory "chunks" and one optional "chunk". AVI files can contain both audio and video data in a file container that allows synchronous audio-with-video playback. Like the DVD video format, AVI files support multiple streaming audio and video, although these features are seldom used.
What Is MPEG4?
MPEG-4 is a method of defining compression of audio and visual (AV) digital data. It was introduced in late 1998 and designated a standard for a group of audio and video coding formats and related technology agreed upon by the ISO/IEC Moving Picture Experts Group (MPEG) (ISO/IEC JTC1/SC29/WG11) under the formal standard ISO/IEC 14496 – Coding of audio-visual objects. Uses of MPEG-4 include compression of AV data for web (streaming media) and CD distribution, voice (telephone, videophone) and broadcast television applications.
Part 3. FAQs of AVI to MPEG4
Which is better AVI or MPEG 4?

Considering video quality, AVI is associated with DivX code while MPEG4 uses H.264 and MP4, and AVI is better quality than MPEG-4. In the terms of file size, AVI carries a larger file size than MPEG4. The better one is the one based on your needs.

Can you upload AVI to Instagram?

No. Instagram supports MP4 and MOV container format, instead of AVI. To upload AVI to Instagram, you need to convert AVI to MP4 or MOV.

Why are AVI files so big?

The file size depends on the codec and bitrate settings. AVI is encoded with DivX, XviD, and H.264. That codecs output a good quality in the same bitrate with other files. So, AVI files are so big.