Best Way to trim, crop video, and capture picture
1 Trim video files
Video Converter Platinum allows you to trim your video clips. Click the "Trim" button to open the trim window. Then there are three ways for you to trim your video to your preference.
(1) Drag the slider bar.
(2) Click "Start Time" and "End Time" button.
(3) Set the values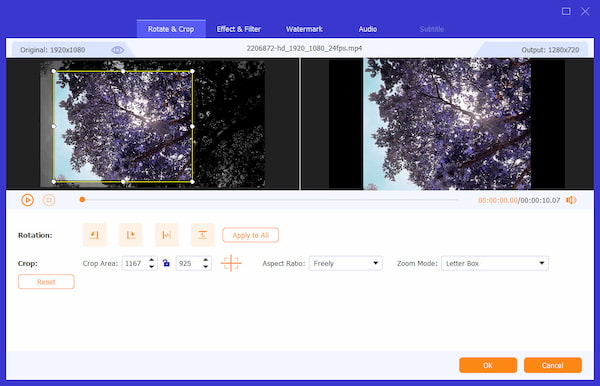 You can specify it by setting the "Start Time" and "End Time", or dragging the slide bar based on your own needs.
2 Crop video files
Video Converter Platinum is also a useful video cropper for various digital video formats. So you can remove the useless black edges around your movie video and customize the aspect ratio. You can click the "Crop" button to open the crop window. There are also three ways to crop your video.
(1) Crop by selecting a crop mode.
(2) Crop by adjusting the crop frame.
(3) Crop by setting the crop values.
You can also set the output aspect ratio from the Zoom Mode according to your need. There are four choices available: Keep Original, Full Screen, 16:9 and 4:3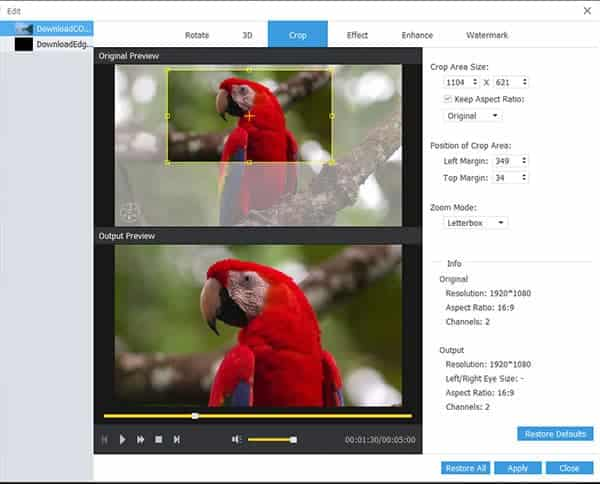 3 Catch picture from the video
Video Converter Platinum allows you to capture your favorite picture when you preview you video. And the saved picture can be in the JPEG, GIF, BMP format. You can click the Snapshot button the capture the picture, then you can find the captured picture in the Snapshot Folder button.