Broken Android Data Recovery: How to Fix a Bricked Android Phone
As an Android user, for various reasons, you like to fiddle and tinker with your Android phone. Sometimes, in order to get more control of your device, delete some pre-installed apps, install the latest Android OS and more, you choose to flash a ROM, install a mod, tweak a system file, or do something else with your Android. However, doing so may easily lead to a bricked Android phone. What factor is Android device brick? Will the Android data get lost? What should you do to fix a bricked Android phone? We will answer your questions in this post.
Part 1 What is Android phone brick
A bricked phone means that, your Android device won't turn on in any way, shape or form, and there's nothing you can do to get rid of it. You have somehow managed to damage the Android operating system on your device. Bricked Android phone can be classified into two types, hard brick and soft brick. This part will show you the signs of a bricked Android phone in detail.
Hard brick:
No signs of life of your Android phone would show. You can't reboot the phone at all. It will be like an expensive brick. Installing a malicious firmware is may key for many circumstances.
Soft brick:
Different with hark brick, soft bricked Android phone can be recoverable. Regularly, soft brick takes place when your Android phone fails to boot correctly, and the screen will be stuck on the booting animation, vendor logo or power on and off endlessly. Some of the major reasons for soft bricking are invalid or corrupt firmware installation, flashing bad scripts, trying to root the device, or flashing a custom recovery image to a device with a locked bootloader.
Signs of a bricked Android phone
1. Stuck on the boot loop.
2. Disabled to shut off your Android phone or stuck at the vendor logo.
3. Get a white screen of death or black screen of death on Android device.
4. Android device reboot endlessly.
5. Won't turn on in any way, shape or form.
Part 2 Best way to fix a bricked Android phone
When you get a soft-bricked Android device, you still have a big chance to get out of the Android phone bricking condition. If you are using a Samsung phone and unluckily access the bricked Android issue, you are very recommended to use the professional Broken Android Phone Data Extraction to solve the problem.
Step 1: Launch Broken Android Data Extraction
After downloading, install and launch this program on your computer. Choose "Broken Android Phone Data Extraction" mode from the left control. Click the "Start" button if you are able to operate your Android phone, if not, click the "Fix Device" button.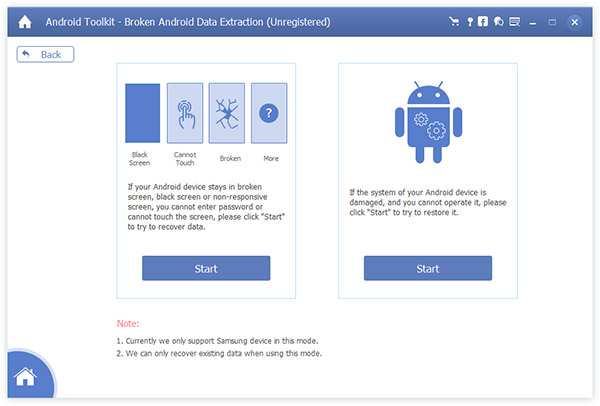 Step 2: Select the bricked situation
Choose the main issue you are encountering when your Android phone is stuck in the startup screen/download mode/FoneGo interface/black screen or others. Then click "Next".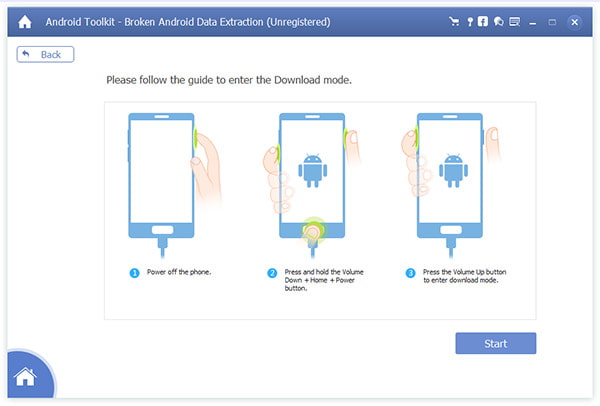 Step 3: Select Android name and model
Choose the device name and model of your Android device. Currently, the program only works with Samsung devices in Galaxy S, Galaxy Note and Galaxy Tab series. Click the "Confirm" button after selecting.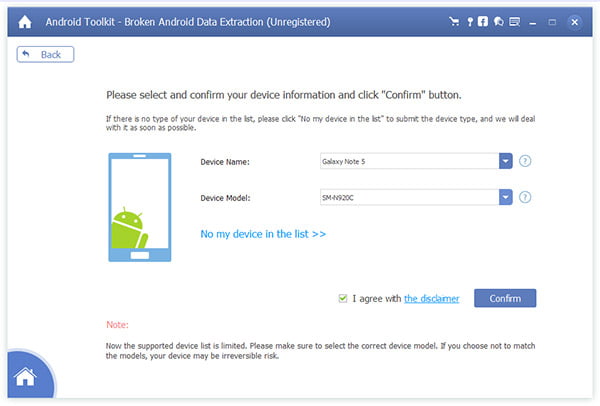 Step 4: Enter Download mode
Lead your Android phone to "Download Mode". Power off the phone > press and hold three keys: "Volume Down", "Home" and "Power" > press the "Volume Up" button to enter the "Download mode".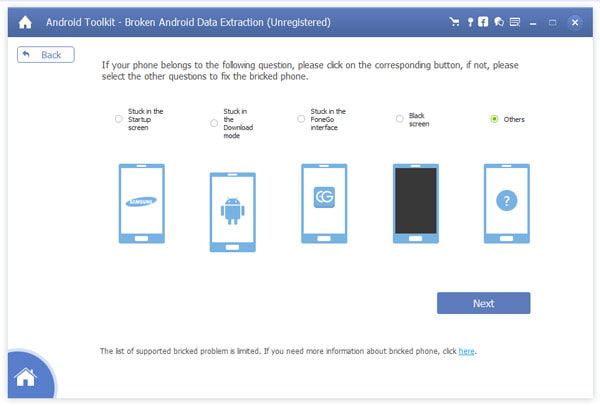 Step 5: Fix bricked Android
It will download recovery package and repair the broken Android system automatically. When the process is finished, you can use "Android Data Recovery" feature to access and scan your Android data.
Part 3 Leave feedback of your bricked Android phone
If there is no types of your device in the list, you are very welcome to leave your mobile information and the issue you are encountering now, we will sincerely do our best to deal with your problem as soon as possible. Or you are able to contact our support team at: support@4videosoft.com. Our customer service staff will give you a response within one (1) business day.