How to Convert 4K UHD&1080p HD to MPEG4
HD to MPEG4 Converter can convert 4K UHD and 1080p HD videos to MPEG4. Besides, it can convert 2D or 3D. Additionally, integrated with editing functions like edit, rotate, merge, split, filter, edit subtitle and audio tracks, this video converter can improve video quality greatly.

HD to MPEG4
Part 1: Step-By-Step to Convert HD to MPEG4
Step 1Download and run the HD to MPEG-4 converter on computer. Click Add Files button to import the HD files or the whole folder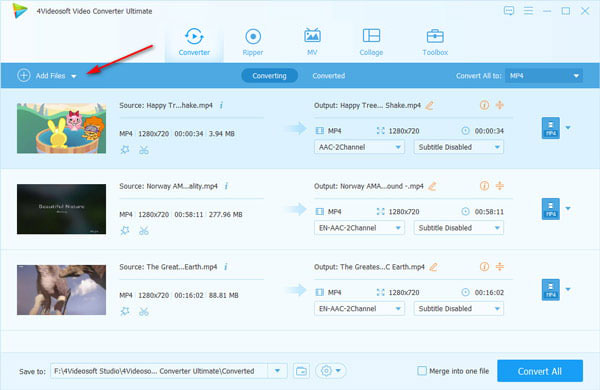 Step 2Click the drop-down arrow right beside Convert All to and select your desired MPEG4 video format from the drop-down list.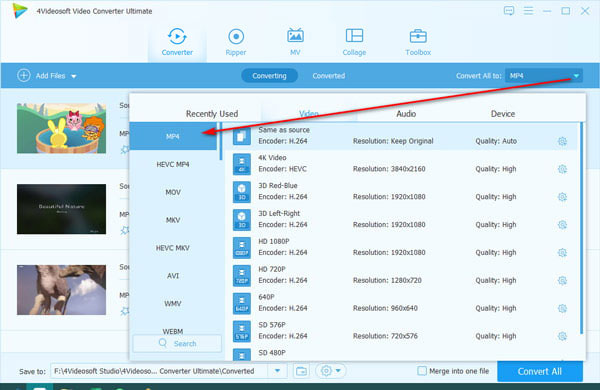 Step 3Optionally, click Edit or Clip button to customize the output video like Effect, Filters, Subtitles, Trim, Crop, Watermark, and more.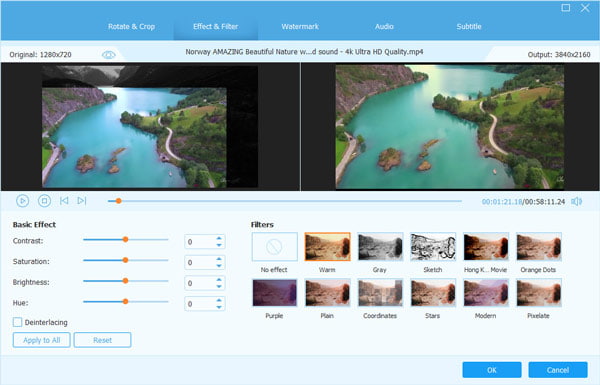 Step 4Return to the main interface, select the location to save the converted MPEG4 files and click Convert All to start the conversion.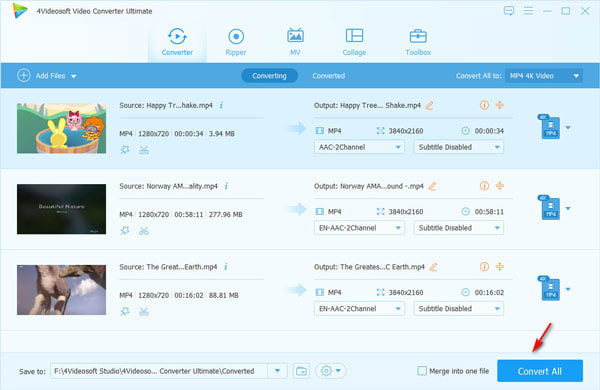 Part 2. HD VS MPEG4
What Is HD File?
Every day thousands of users submit information to us about which programs they use to open specific types of files.While we do not yet have a description of the HD file format and what it is normally used for, we do know which programs are known to open these files. See the list of programs recommended by our users below.We are constantly working on adding more file type descriptions to the site - the current count exceeds thousand by far, and more information about HD files will hopefully be added soon.
What Is MPEG4?
MPEG-4 is a method of defining compression of audio and visual (AV) digital data. It was introduced in late 1998 and designated a standard for a group of audio and video coding formats and related technology agreed upon by the ISO/IEC Moving Picture Experts Group (MPEG) under the formal standard ISO/IEC 14496 – Coding of audio-visual objects. Uses of MPEG-4 include compression of AV data for web (streaming media) and CD distribution, voice (telephone, videophone) and broadcast television applications.
Part 3. FAQs of HD to MPEG4
Is MPEG4 an HD?

MPEG-4 is a method of defining compression of audio and visual (AV) digital data. MPEG-4 Part 2 and MPEG-4 Part 10 is encoded with DivX, XviD, AVC, etc., which are for HD videos.

How do I convert 1080p to 720p?

To convert a 1080p HD video to 720p HD file, you need Video Converter Ultimate to help you. It can convert 4K UHD, 1080p HD, 720p HD, and SD videos in 3 steps.

Is MP4 and MPEG4 same?

No. MPEG-4 is a method of defining compression for video and audio. It contains MPEG-4 Part 2, MPEG-2 Part 10, etc. Among, MPEG-4 Part 10 is commonly referred to MP4.