How to Convert TS to MP4
Many kinds of TS video formats created from a DVD can be converted to MP4 format with the TS to MP4 Converter. Moreover, it can customize the MP4 resolution for the 720p HD and 1080p HD TS files. Integrated with the editing functions so that the clip, crop, and merge operations can be performed to enhance the video quality as well as the effect to meet your needs.

TS to MP4
Part 1: Step-By-Step to Convert TS to MP4
Step 1Download and run the TS to MP4 converter on computer. Click Add Files button to import the TS files or the whole TS folder.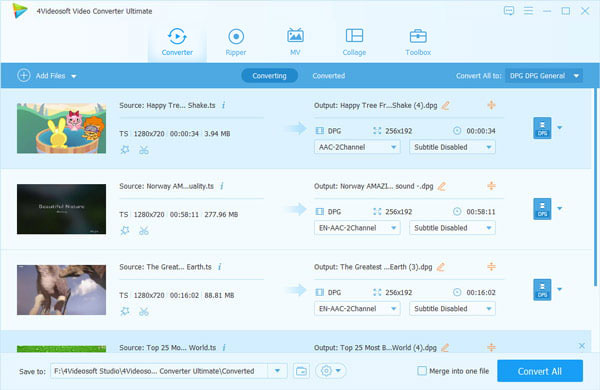 Step 2Click the drop-down arrow right beside Convert All to and select your desired MP4 video format from the drop-down list.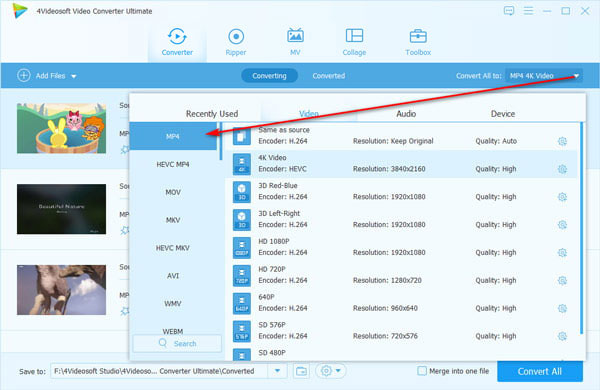 Step 3Optionally, click Edit or Clip button to customize the output MP4 video like Effect, Filters, Subtitles, Trim, Crop, Watermark, etc.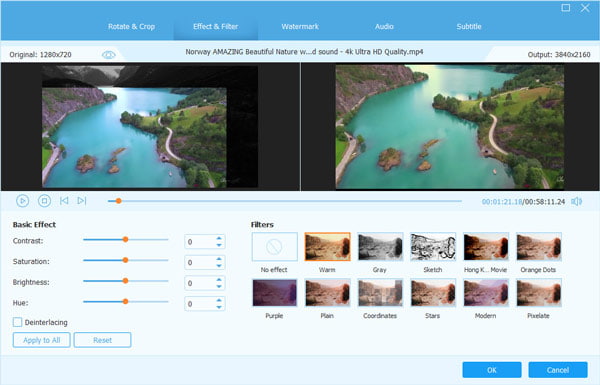 Step 4Back to the main interface, select the destination to save the converted MP4 files and click Convert All to start the conversion.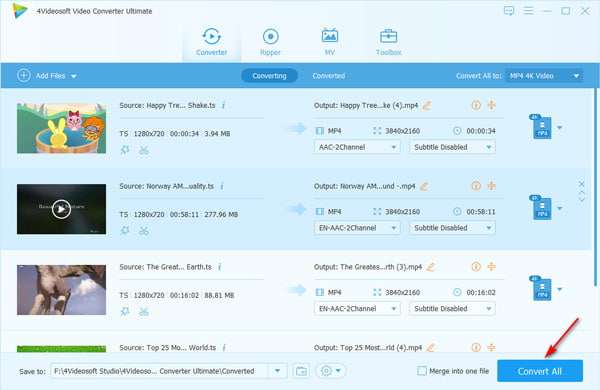 Part 2. TS VS MP4
What Is the TS video format?
TS is an acronym for Transport Stream. Files that contain the .ts file extension are container files. These TS files contain encapsulated packetized audio and video streams. The TS file format is commonly used to in broadcast applications to broadcast media files over the Internet. TS files can be saved as multiple movie files on a single DVD. When this occurs, the DVD will contain multiple movie titles that can be launched from the DVD.
What Is MP4?
The MP4 file format is the file format that most websites use to store digital audio and video streams. The name is short for "MPEG -4". The MP4 file is often thought of as the evolution of the MP3 file format, with the MP4 format providing more functionality and flexibility. The files commonly stored in this format include audio files, video files and pictures. Many of today's newer portable devices use the MP4 format to play movies and videos on the go. One such mobile device is the ever-popular iPod by Apple.
Part 3. FAQs of TS to MP4
Can TV play TS files?

No. To play TS files on a TV, you should convert TS to Smart TV supported MP4.

Is MP4 or TS the better format for storing data in the broadcast system?

The primary difference between TS and MP4 is the TS files are flat while MP4 files have an index at the beginning of the MP4 file. If the video bitrates inside are the same, then MP4 and TS are the same video quality.

Can you convert TS to MP4 in VLC?

Yes. VLC can convert TS files to MP4, MOV, WMV, MP3 and other media formats.