How to Convert PDF to HRML Web Page
"I have a PDF document and I want to post it on the web. However, I don't want to post it as a PDF file, but a real PDF web page."
To solve such a problem, you need a professional and handy PDF to HTML converting tool. PDF to HTML Converter is the best choice for you. Using this PDF to HTML Converter, you can freely convert all the PDF files including the image-based- scanned PDF to HTML format so as you can easily publish your PDF files on website.
This guide will show you how to use the PDF to HTML Converter to convert PDF to HTML with excellent output quality in a few of steps.
Step 1 Add PDF files
Click "Add File(s)" button to add the local PDF files to the PDF to HTML Converter.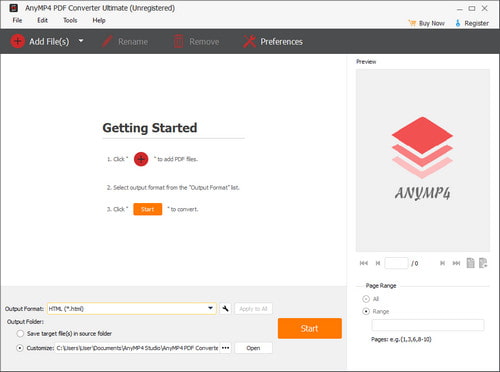 After adding the PDF files, you can preview the PDF files with the built-in player. Also you can directly open the checked PDF file with the PDF Reader.
Step 2 Customize output settings
Click the "Settings" icon in line with the "Output Format" button to open the "Output Settings" button, where you can freely define the layout, text encoding and image format/resolution/JPEG quality.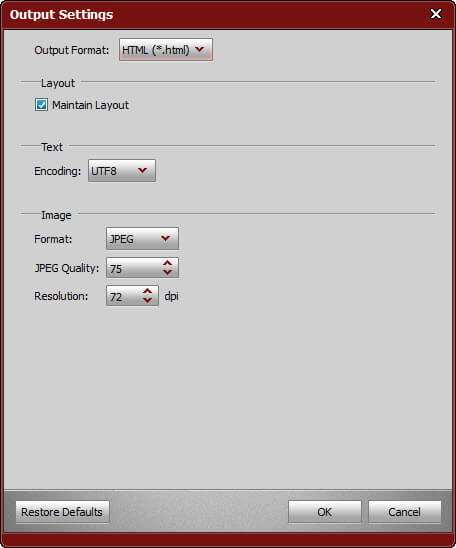 Step 3 Easily convert PDF to HTML
Click "Convert" icon Convert PDF to JPEG, this PDF to HTML Converter will help you convert PDF to HTML format automatically with high output quality and super fast speed.
The converted HTML file will keep the original layout, image, text, hyperlink, etc. After conversion, you can conveniently publish the HTML web page online.