iPhone 3GS unveiling, the iPhone new model
4Videosoft News - iPhone 3GS, the "S" stands for speed. So, Apple appended "S" to iPhone to indicate that the new iPhone 3GS has enhanced speed.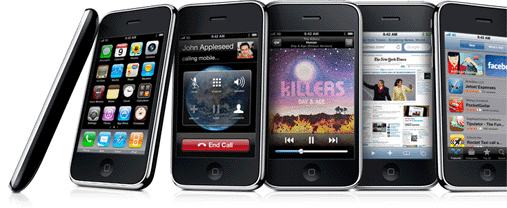 With the iPhone 3GS, Apple has boosted the performance of the processor , the throughput of its connection to the cellular network, and its storage capacity. The built-in camera has been upgraded to 3 megapixels, with improved low-light sensitivity along with video recording capabilities.

The new iPhone 3GS, the storage capacity of is up to 16 GB and 32 GB, both of which are available in either black or white.

Pricing:
Pricing for the current iPhone 3G will be dropped to $99* for the 8GB model, where the new iPhone 3GS will sell for $199* for 16GB and $299* for 32GB in both black and white available June 19th in the United States, Canada, France, Germany, Italy, Spain, Switzerland, and the United Kingdom. Other countries will follow July '09 and August '09.

Camera:
The 3-megapixel camera has auto focus, auto exposure, and better low-light sensitivity. It also sports a macro capability with focus down to 3.9 inches (10 cm). In addition to capturing close-up images of your favorite flora, this feature will enable applications on the new iPhone to capture bar codes in focus, enabling the bar codes to be used for tasks such as price comparison, linking to additional information (via a new 2D bar code format that's spreading fast), and inventorying.
On top of that, the camera now supports video capture at VGA resolution (640 by 480 pixels) at 30 frames per second. Video capture includes auto focus, automatic white balance, and auto exposure. Video can be trimmed with touch gestures.

Voice Control:
With the vioce control of iPhone 3GS, you are easy to use your voice to make a call, use your voice to play music. It can recognise all kinds of languages, including Chinese (Cantonese), Chinese (China), Chinese (Taiwan), Dutch, English (UK), English (U.S.) Finnish, French (Canada), French (France), German, Italian, Japanese, Korean, Norwegian, Polish, Portuguese (Brazil), Portuguese (Portugal), Russian, Spanish (Mexico), Spanish (Spain), Swedish. And the feature won't be available to older iPhone models. Since phones with far less performance can handle voice dialing, Apple must have decided that it could offer the feature only if it raised the bar considerably.

Miscellaneous Features:
The iPhone 3GS has a digital compass that you interact with via a whimsical display in the new Compass app. So the iPhone 3G S can point the way.

The iPhone 3GS will also have built-in hardware encryption, a feature that some businesses require for compliance or security plans. Plus, if you use the iPhone's Exchange service or the Find My iPhone feature, a remote data wipe that you initiate is instantaneous. All phone backups are also encrypted.

Battery life has also been improved, with Apple claiming that the iPhone 3GS can provide up to 5 hours of 3G talk time and up to 9 hours of use when working via Wi-Fi.

It sounds utterly fabulous about the new model of, so much so that you are willing to place the order immediately. In fact, it is really a big surprise and upgrading chance for those who already own an iPhone 3G. And we hope that the new model of iPhone 3GS would be a huge hit for Apple, and will continue to stand ahead on the smartphone market.