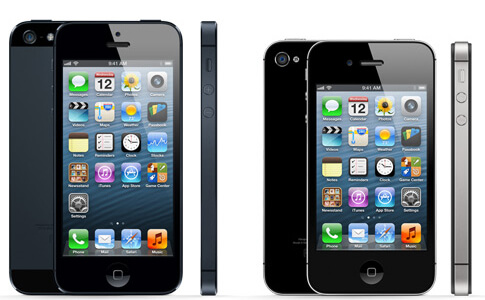 iPhone 5 is the 6th generation of iPhone and the successor of iPhone 4S. According to producer and consumers, the new iPhone 5 outperformance all other iPhone. However, is it worth to buy iPhone 5 with 100 dollar more than iPhone 4S?
As we know, iPhone 5 comes with a larger 4-inch screen than iPhone 4S' 3.5-inch display, and the clear resolution of iPhone 5 is 1134 X 640 compared with 960 X 640 resolution of iPhone 4S. Also the iPhone 5 is 20% lighter and 18% thinner than its predecessor iPhone 4S.
Apple released iPhone 5 with iOS 6, which is claimed by Apple as "the worls's most advanced mobile operating system" as iPhone 4S is running on iOS 5.1.1. However, Apple has promised the old iPad/ iPhone/ iPod devices can be updated to iOS6. Please make sure to backup your iOS 5.1.1 before you decide to update your older Apple devices to iOS 6 for the slowdown experience and performace some users have experienced when iOS 5 was launched for older iDevices.
Moreover, iPhone 5 is published with A6 chip, which provides as twice as fast processing speed than the A5 chip in iPhone 4S, which is a big surprise especially for gamers.
The network of iPhone 5 is also better than iPhone 4S. The iPhone 5 is the 4G-LTE martphone supporting improved Wi-Fi, including 2.4ghz and 5ghz. It completely accelerates the net working speed to 15MBps.
Actaually, in all above aspects, iPhone 5 has the better performace than iPhone 4S. Anyhow, you should think clearly before you make a decision to buy an iPhone 5, especially if you are an iPhone 4S user. You know, the color of the iPhone 5 doesn't have any breakthrough, still black and white. Just as iPhone 4S and other iPhone devices, the iPhone 5 comes in three storage sizes: 16GB, 32GB and 64GB. With a two year contract, the iPhone 5 costs $199 as the iPhone 4S has dropped to $99 with a contract.
And of course, if you want to experience the big screen video watching enjoyment and the super fast gaming speed, you can think about the iPhone 5.
The limited video formats supported by iPhone 5 are:
H.264 video up to 1080p, 30 frames per second, High Profile level 4.1 with AAC-LC audio up to 160 Kbps, 48kHz, stereo audio in .m4v, .mp4, and .mov file formats; MPEG-4 video up to 2.5 Mbps, 640 by 480 pixels, 30 frames per second, Simple Profile with AAC-LC audio up to 160 Kbps per channel, 48kHz, stereo audio in .m4v, .mp4, and .mov file formats; Motion JPEG (M-JPEG) up to 35 Mbps, 1280 by 720 pixels, 30 frames per second, audio in ulaw, PCM stereo audio in .avi file format
Therefore, if you want to play other video files, you should use the iPhone 5 Video Converter to convert the video you selected to iPhone 5 supported video formats. It can convert any popular video to iPhone 5 with excellent output quality. If you are a Mac user, you can try the iPhone 5 Video Converter for Mac.