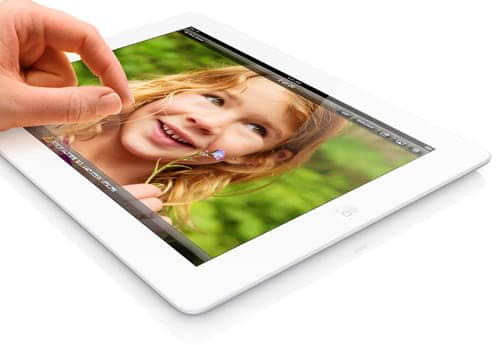 Most people know that Apple has released iPad Mini on October 23th, 2012. In fact, along with the iPad Mini, Apple also announce the 4th generation of iPad, which is marketed as the new iPad with retina display. It is generated from the New iPad (iPad 3) released six months ago, but with some new features and specs, such as the A6X chip processor, retina display and lightning connector. And the iPad with retina display runs on the latest iOS 6 as well as supporting the iTunes 10.7.
The 2048-by-1536 resolution retina display provides the sharp text, vibrant colors, clear and high-resolution photos and videos. The better retina display will bring you the better iPad experience. You can freely and fully enjoy the favorite movies and pictures on your iPad.
The latest and most advanced A6X chip processor can make the CPU and graphics performance as twice as fast of A5X on its predecessor the New iPad. And the improved image signal processing built into the A6X chip can bring you the sharper photos and videos that taken with the 5-megapixel iSight camera. Also the FaceTime HD camera help you take self-portraits or record 720p HD video as the iSight camera has the ability to record the happy, surprise moment in full 1080p.
The iPad with retina display gives you a new way to get connected. It adopts the lightning connector as that of iPhone 5.
As we know that iOS is the core of all iPad, iPhone and iPod devices. It contains all the built-in apps you use with your Apple devices. and the latest version of iOS is iOS 6, which is said by Apple "the world's most advanced mobile operating system. It has been installed on the new released iPad with retina display. And it highly supports the new iTunes 10.7 from Apple Inc.
Besides, the iPad has the ultrafast wireless, including the advanced Wi-Fi technology and cellular connectivity, along with the Siri, AirPlay, iCloud, and etc.
All these smart and improved features and specs of the iPad with retina display make it the most advanced tablet in the world. The New iPad released six months ago is no longer the newest and best tablet, which confused and annoy most of the the New iPad (iPad 3) users.