4K Screen Recorder – 5 Best Programs to Capture Screen Videos with 4K UHD or 1080P
When you want to record screen videos with 1080P or 4K UHD videos, what are the best 4K screen recorders on Windows and Mac? To capture a video for business conferences, or record video tutorials, you should make sure a high quality video recording. Here are 5 best 4K recorders that preserve all the details for the onscreen activities. Just learn more details about the features and choose the desired one according to your requirement.

4K Recorder
Part 1: 5 Best 4K Recorders to Capture High Quality Videos
Top 1: 4Videosoft Screen Recorder
4Videosoft Screen Capture is a versatile 4K recorder that captures all onscreen activities, such as webcam footage, microphone voice, system sound as well as screen video. Moreover, you can also tweak the video and audio settings, add annotations/shapes/watermarks, and even edit the recorded videos with ease.
4Videosoft Screen Capture
Record onscreen activities on your computer with 4K videos as desired.
Tweak the frame rate, FPS, audio/video quality, and more other settings.
Add annotations, shapes, arrows, watermarks, and draw on the recording.
Edit and manage the screen recording, such as view, delete and share.
Step 1Download and install the 4K screen recorder, you can launch the program on your computer. Go to the Video Recorder menu and choose the Gear icon to tweak the settings for 4K videos. After that, you can select the video codec and video format for the output.

Step 2Tweak the recording area with the Custom option, you can choose the Fixed region option or the Select region/window option. After that, you can enable the System Sound option to adjust the audio volume, and the Microphone option to add the microphone voice.

Step 3After that, you can click the REC button to capture the videos with the desired quality. During the process, you can also add annotations, such as lines, callouts, and watermark. Of course, you can also click the Camera icon to take the screenshots with ease.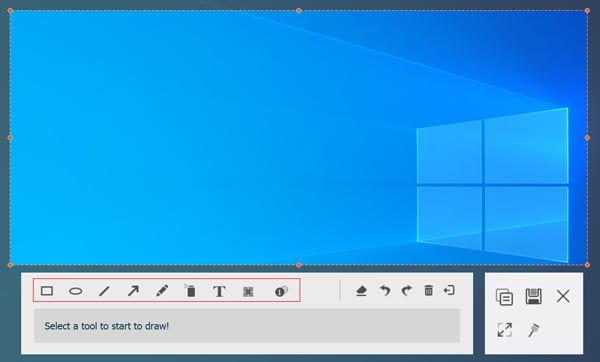 Step 4Once you get the desired file, you can click the Stop button to finish the 4K-screen recording. Then you can clip the video by inputting the start time and the end time. After you click the Save button, you can manage the recorded video within the Media Library.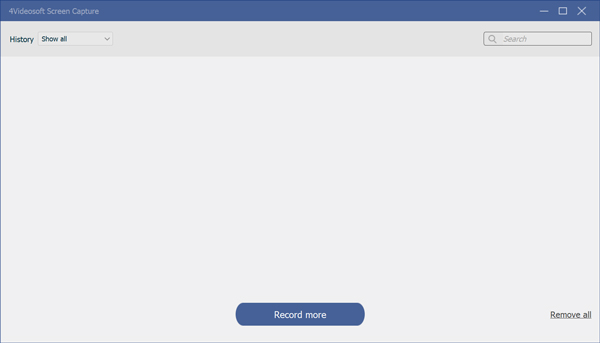 Top 2: ShadowPlay
ShadowPlay is another free 4K-screen recorder for PC, which is available to computer with NVIDIA GeForce. It provides two different screen recording modes, manual and shadow. The shadow mode only provides 20 minutes of recording and will automatically delete the previous recordings.
1. Allow you to record 4K videos for an unlimited period with the Manual mode.
2. Record 4K videos at a speed of 130 MBPS at best possible video quality.
3. Create up to a 15-second GIF from your ShadowPlay video and others.
4. Support camera and custom graphic overlays to personalize the live stream.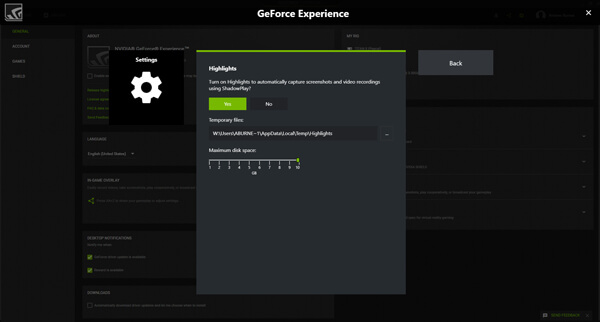 Top 3: Bandicam
Bandicam is an easy to use 4K recorder with intuitive user interface that enables you to capture your UHD videos with the resolution of up to 3840 X 2160 and capture them at up to 120 FPS. But you have to purchase the tablets to record screen videos with a high quality.
1. Extremely easy settings that give you full control to record 4K videos.
2. Record the gameplay with DirectX / OpenGL hardware accelerations.
3. Choose YouTube presets for changing the resolution and video files.
4. Provide 4K videos with excellent speed and great compression rate.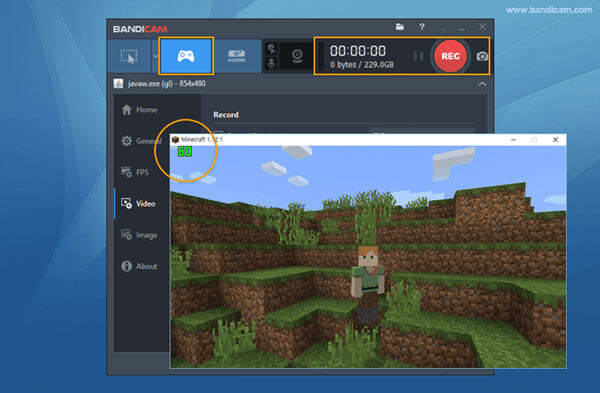 Top 4: XSplit Gamecaster
XSplit Gamecaster is a 4K-screen recorder for gameplay videos, which offers both screen recording and media streaming. It enables you to record screen videos as well as gameplay files. Moreover, you can also share the edited recording files to social media sites directly within the program.
1. Support different capture cards, like AverMedia, Elagto, Hauppauge, etc
2. Provide some basic video editing features to polish the recording videos.
3. Draw lines, shapes, text, and more elements so forth when recording files.
4. Upload the recorded video to YouTube, Twitch and more other websites.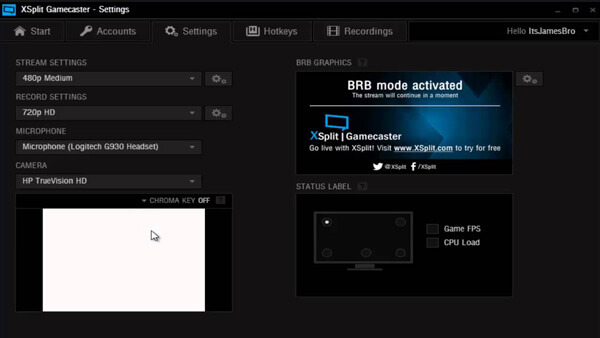 Top 5: Action! Game Recorder
Action! Game Recorder is a recommended 4K recorder for gameplay videos. It enables you to record videos up to 120FPS with a low CPU usage. The cutting-edge game recording engine guarantees the best performance with low CPU and GPU resources usage within clicks.
1. Capture onscreen activities, microphone audio commentary and webcams.
2. Provide advanced compress algorithm to smaller 20 times video recording.
3. Live streaming recorded videos to Twitch.tv, YouTube, Ustream and more.
4. Enables you to control the video recording with your smartphone easily.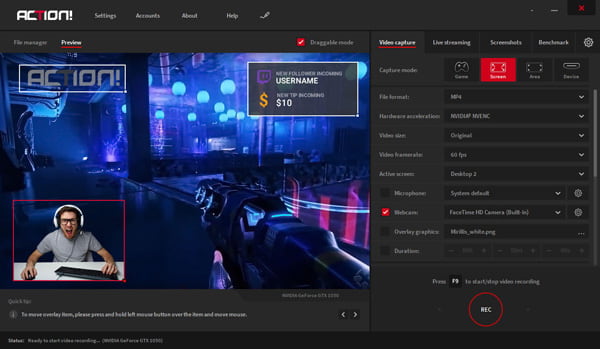 Part 2: FAQs about 4K Screen Recorders
1. What is 4K Video Format?

4K-video is a high definition video that has 4 times of the resolution of 1080P HD video. The 4K resolutions standard for television and monitors is 3840 x 2160P, while the standard for film and video production industry is 4096 x 2160P. To capture high quality videos with 4K recorders, you should make sure there is enough space for your computer.

2. Is It Possible to Record 4K Videos on Smartphone?

Just as mentioned above, the 4K videos are extremely large in output. Usually it is not a default solution to export 4K files or even 1080P videos with a 4K-screen recorder. Even if there is an option for 4K video formats, it might take up all the storage space for the smartphone within a few minutes.

3. Which are the Best 4K Screen Recorders for Windows and Mac?

Of course, when you have an NVIDIA GeForce graphic card, you can simply choose ShadowPlay. There are more other 4K-screen recorders that are available to Windows only. As for your MacBook, 4Videosoft Screen Capture is always a nice option that captures high quality videos with ease.
Conclusion
What should be the best 4K screen recorders for your Windows and Mac? Whether you need to choose a free video capture, or a professional screen recorder for gameplay, you can always find one from the article with ease. If you need to capture onscreen activities with ease, 4Videosoft Screen Capture is the desired 4K-recorder you can take into consideration.