Screen Recorder for – 10 Best Choices You Should Know (Free and Paid)
What are the best screen recorders for ? To capture the desired screen videos, you should know more details about the desired features, such as editing, broadcasting, annotation and more others. Of course, choose a free Windows screen recorder or a professional one is another initial aspect. Just learn more about the features of the top 10 screen recorders for Windows and choose the desired one accordingly.

Screen Recorder
Part 1: Top 5 Professional Screen Recorders for
Top 1. 4Videosoft Screen Capture
4Videosoft Screen Capture is a versatile Windows screen recorder that captures onscreen activities, such as the screen video, webcam footage, microphone voice, system audio and more. It also enables you to tweak the video and audio settings, editing the recorded videos, add annotation/shapes, or even manage the files with ease.
4Videosoft Screen Capture
Capture onscreen activities, microphone audio and take snapshot easily.
Record the videos with a desired video quality up to 60 FPS with 1080P.
Add annotations, shapes, watermarks, lines, arrows and other elements.
Manage the recorded videos, such as view, share, delete and add to folder.
Top 2. Camtasia
Camtasia is one of the most powerful screen recorder for . It is an all-in-one screen recorder and video editor that you can create video tutorials and screencasts. Moreover, you can also get some collaborative tools, such as template building within the latest version.
Pros
Record screen and camera with a various of canvas dimensions.
Enables you to share templates, libraries, themes and presets easily.
Provide pre-built video templates that potentially reduce editing time.
Cons
It is pricy to purchase the screen recorder with full functionalities.
It is pricy to purchase the screen recorder with full functionalities.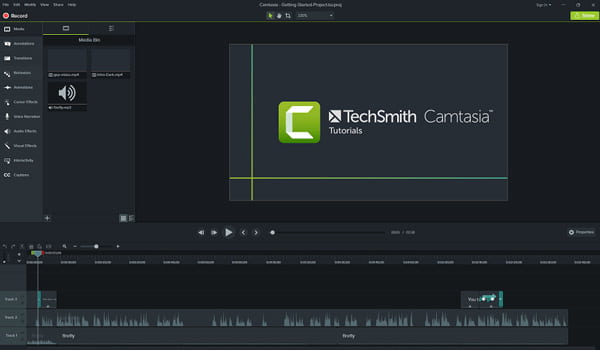 Top 3. FlashBack
When you want to capture videos from multiple monitors, FlashBack Pro is a desired screen recorder for Windows 7/8/10. The Pro version provides a full editing suite to enhance the video message, such as trim the footage, add captions, and apply video filters.
Pros
Simultaneous recording to capture the screen videos for multiple monitors.
Multiple tracks with full editing suite to polish the recorded files with clicks.
Export the recorded videos as MP4/AVI/GIF or share to social media sites.
Cons
It has an outdated user interface with some relatively simple functionality.
Slow to use when you apply some filters and editing features.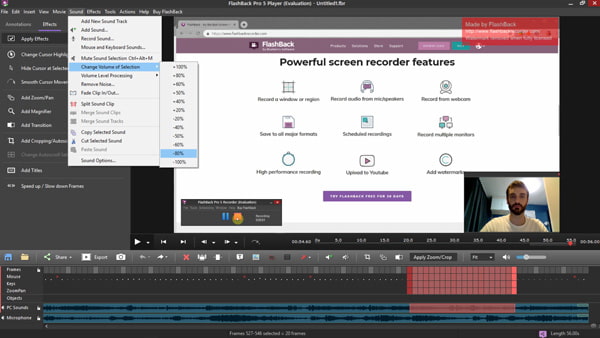 Top 4. SmartPixel
SmartPixel is another professional screen recorder for , which enables you to capture video with an extremely high resolution. Besides the basic screen recording features, you can also access to the screen casting and video editing functionalities.
Pros
Produce high quality professional 1080p video for screen video, games, etc.
Create and edit the video into the various format and upload to YouTube.
Add subtitle, filters, background music, audio clips and dubbing your videos.
Cons
Need to upgrade to the Pro version to use the zoom and pan features.
It is unable to adjust or tweak the recorded audio with the screen recorder.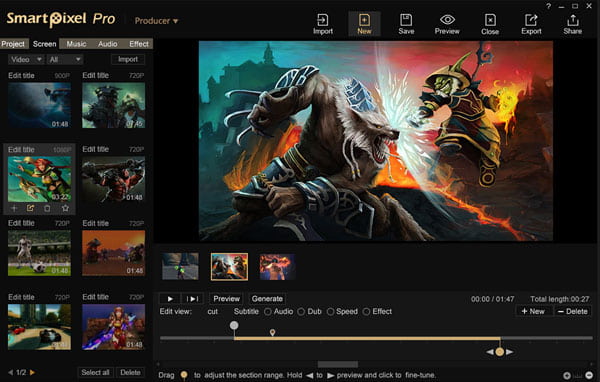 Top 5. Bandicam
Bandicam is a lightweight screen recorder for Windows 8/7 that captures anything on your PC screen as high quality video. It has the advanced hardware acceleration technologies for DirectX/OpenGL/Vulkan to record a certain area or capture a game.
Pros
Record everything on your computer screen and save it as video files.
Capture 2D/3D games with 4K UHD Video and capture up to 480 FPS.
Make a chroma key video in real-time for recording your computer screen.
Cons
It only saves the recorded videos to limited formats as MP4 and AVI.
Limited editing features or platforms for sharing the recorded files.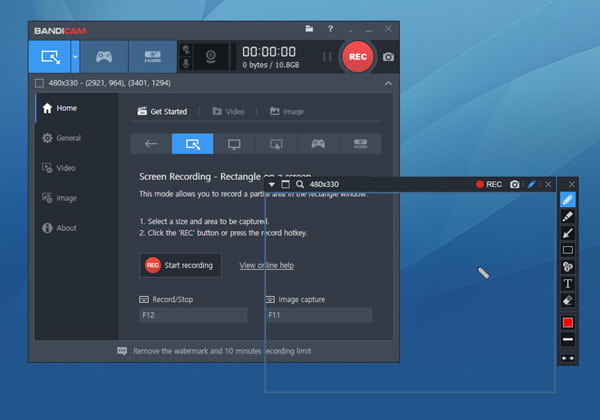 Part 2: 5 Best Free Screen Recorders for
Top 1. OBS Studio
OBS Studio is an open source screen recorder for Windows and Mac for capturing gameplay and screen videos. This video capturing and mixing software has a high performance of output. It allows capturing videos, images, cards, browser, and many more items.
Pros
Record microphone and webcam directly while capturing desktop screen.
It is characterized as a live screen recorder and live streaming program.
Advanced editing features, such as audio mixer, themes, filters and more.
Cons
Limited editing features that cannot polish the recorded files directly.
It is difficult to set the configuration with the complicated interface.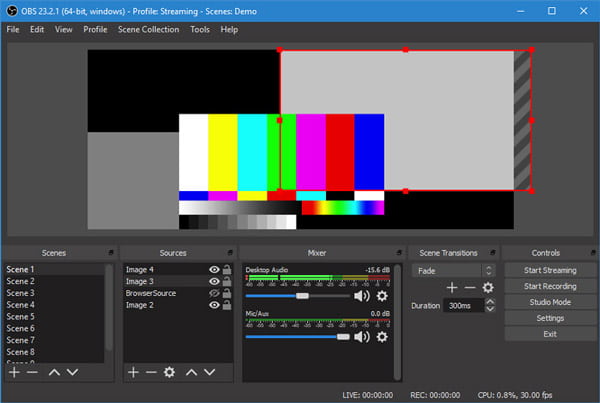 Top 2. Screencast-O-Matic
Screencast-O-Matic is an online screen recorder for Windows. It enables you to capture the screen videos without signing up or an account. Moreover, it enables you to record screen and webcam at the same time for different scenarios according to your requirements.
Pros
Capture your screen, add a webcam and use narration to customize videos.
Create videos with zoom, add texts, automated captioning and more others.
Get unlimited ad-free uploads and collaboration tools for your team.
Cons
It does not support record the system sound on your computer.
The free screen recorder only enables you to record a 15-minute video.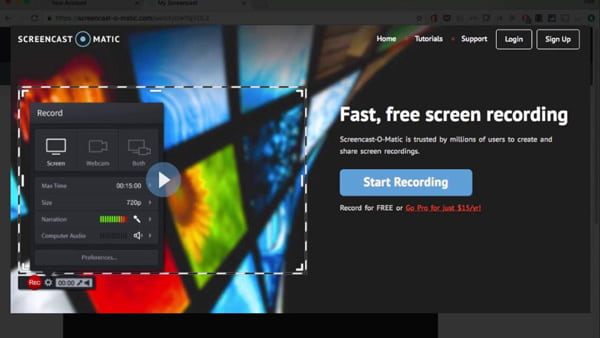 Top 3. Ezvid
Ezvid is a one-stop Windows screen recorder that will automatically capture whatever goes on your desktop screen. It also comes with built-in video maker, voice recording, face cam, voice synthesis, screen drawing, and speed control and cutting-edge features.
Pros
Capable of recording anything on your computer screen.
Record the onscreen activities and edit videos without watermarks.
Provide excellent text to speech tool and the basic built-in editor.
Cons
There is no way to hide the widget on your computer while recording.
It only enables to record the video that is limited to 45 minutes.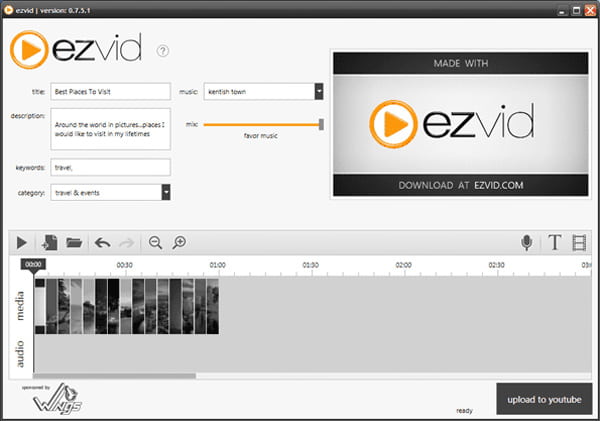 Top 4. TinyTake
TinyTake is a free, simple and feature-rich screen recorder for Windows. You can capture images and videos of your computer screen, add comments and share them with others in minutes. Moreover, you can also use the Proxy server as desired.
Pros
Capture a screenshot or video of what you see on your computer screen.
Mark up your screenshot with a text box, arrow, highlight and more others.
Publish your screen capture online, get a shareable link, and reference.
Cons
There is no annotation feature within the free version of screen recorder.
The video editor might be misleading and difficult to master.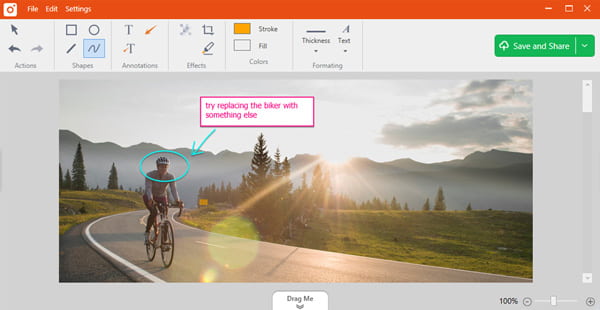 Top 5. CamStudio
CamStudio is one of the most popular free screen recorders for Windows. It enables to capture all screen and audio activity on your computer and create videos in AVI format. Moreover, you can also get some unique video annotation features.
Pros
Some extensions and options that can be added to the program easily.
Add high-quality, anti-aliased screen captions to your recordings.
Personalize your videos by including a webcam movie of yourself.
Cons
It contains some unwanted programs when you install the screen recorder.
The output video is large in size and takes more CPU storage of a computer.
Part 3: FAQs about Windows Screen Recorder
1. Is There A Built-in Screen Recorder for Windows?

Yes, you can use Windows Game Bar as the built-in screen recorder for Windows 11/10 only. If you need to capture screen videos with Windows 8/7, you can also use the screen recording features as the default solution. When you have a computer with NVIDIA GeForce, you can also take advantage of the default ShadowPlay as the screen recorder.

2. Which Screen Recorder for Windows Should I Choose?

If you have some professional video editors, or just need a simple screen video, you can choose a free Windows screen recorder instead. When you have to use some basic editing, annotation and management features, 4Videosoft Screen Capture is a recommended one you can capture all onscreen activities with ease.

3. Can I Use FlashBack Screen Recorder for Free?

Just similar to other free screen recorder for Windows, you can find a free version of FlashBack for free with limited features. To take full advantage of the functionalities, you have to upgrade to the Pro version or choose an alternative one instead.
Conclusion
When you want to capture screen video of Windows PC, you can learn more about the 10 best Windows screen recorders from the article. Whether you need to record the screen video for free, or even use the advanced editing features, you can choose a desired one according to your requirement with ease. If you have any query about the screen recorders for Windows, you can share more details in the comments.