Top 10 Best Webcam Recorders for Windows, Mac, Linux and Online
If you want to make online lessons, YouTube videos and other live streams, your computer is your budget choice. The built-in camera can record you sitting in front of a computer and speaking at the same time. All you need is a webcam recorder. Later, you can record your face, voice and even computer activities at the same time. For people who have no idea which is the best webcam recorder and editor here. This article collects top 10 online and offline webcam video recorders. You can read and compare to get your best tool to record webcam video here.

Best Webcam Recorder
Part 1: Top 5 Webcam Recorder Software for Windows and Mac
Here're free and professional webcam recorder software for desktop users. After reading the pros and cons of each webcam software, you can make a decision easier than before.
Top 1: 4Videosoft Screen Capture
If you are looking for a lightweight and powerful screen recorder, 4Videosoft Screen Capture is a good choice. You can record a webcam video for tutorials or sharing without delay. The built-in webcam recorder allows users to quickly record webcam video on Windows and Mac. It is also supported to record desktop video with webcam video at the same time. Moreover, you can add annotation tools, mouse effects and other on-screen drawing effects during recording. To check more details of the webcam recording software, you can check the following features.
4Videosoft Screen Capture
One click to activate the webcam recorder in the main interface.
Record webcam with screen video in full screen or any area.
Add system sound and microphone voice into webcam recording.
Draw on the real-time webcam video recording with custom color and size.
Adjust output video format, quality, resolution, frame rate and other preferences.
Preview and trim the webcam video recording before exporting.
Save or share the recorded webcam video with multiple options.

Top 2: Free2X Webcam Recorder
Free2x Webcam Recorder is a webcam recorder freeware for /Vista/XP. You can record and save webcam video as MP4, WMV, AVI and other formats on Windows PC for free. Meanwhile, you can use the screenshot function to screen capture the streaming webcam video.
Pros
The webcam recorder free has a small download package, which is 2.8 MB only.
Schedule a camera to control webcam recording.
Cons
There are no output options to save and manage the recorded webcam videos.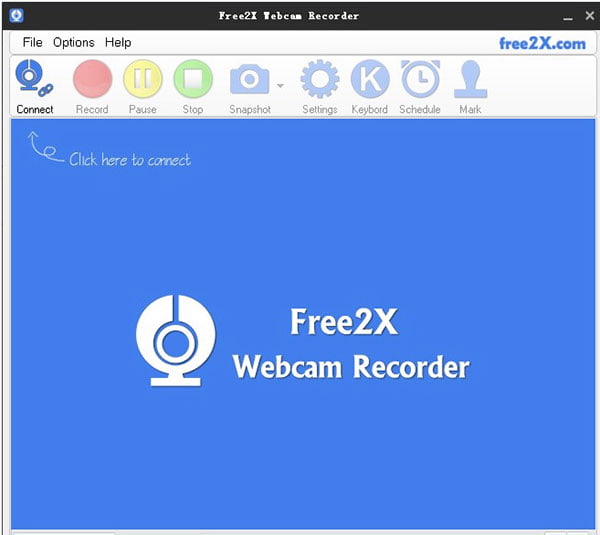 Top 3: QuickTime Player
QuickTime Player is a free webcam recorder for Mac. You can start a webcam recording with the default camera app. Or you can connect an external camera into your computer to record webcam video with better quality.
Pros
The webcam recording files can be imported into iTunes.
Works with almost all Mac OS versions.
Cons
Apple stops the support of QuickTime Player for Windows.
Not support with common subtitle files.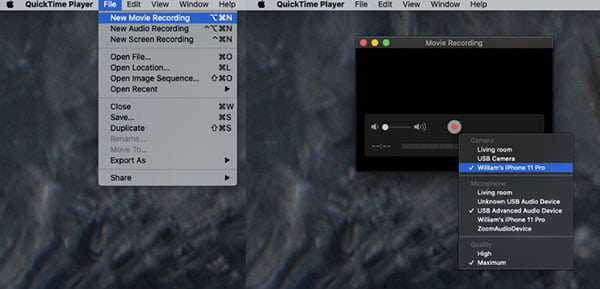 Top 4: Windows Camera
The Windows 11/10 Camera app allows users to record screen and webcam video on your Windows 11/10 PC or tablet. The auto video stabilization can bring you the smooth video visualization.
Pros
Pause and resume webcam recording on Windows 11/10.
Set a timer to auto start and stop recording webcam.
Cons
The Windows webcam recorder is available for Windows 11/10 version only.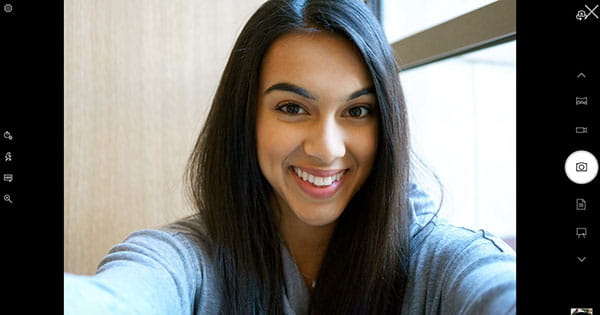 Top 5: OBS Studio
OBS Studio is a free and open source screen recorder. You can use it as your webcam recorder free software for Windows, Mac and Linux. In spite of screen recording, you can add a webcam to record and broadcast simultaneously.
Pros
Create scenes with screen captures, webcams, images, text and more.
Apply noise reduction, gain, noise gate and more.
Cons
OBS Studio does not work with Windows XP.
The interface is overwhelming.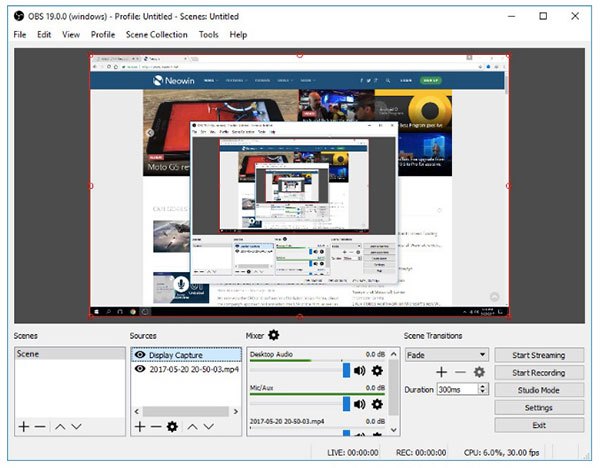 Part 2: Top 5 Free Webcam Recorders Online
If you just want to record webcam video for one or two times, you can use an online webcam recorder as well. Most webcam online recorders are free to use. What you can and cannot get from those online tools. You can check the following list.
Online webcam recorder
Pros
Cons
4Videosoft Free Online Screen Capture
1. Record webcam video with microphone voice and computer's sound.
2. The webcam recorder is completely free and safe to use. There is no on-screen ads or other popups.
You need to upgrade to its full version to get more output options.
Webcamera.io
1. Record webcams, videos and take pictures for free.
2. Save your webcam video to Google Drive or Dropbox within Webcamera.io
The online webcam recorder requires a good Internet connection.
Cam Recorder
1. he online webcam video recorder has an intuitive interface.
2. Upload your webcam video to YouTube directly. Or you can save it into the hard disk.
No additional editing tools and recording effects.
Webcam Test
1. Capture video from your computer's camera as a digital file.
2. The free webcam recorder can detect the connected devices and cameras, such as integrated, wireless or USB devices.
The interface of Webcam Test needs to be improved.
Cute Webcam Recorder
1. The webcam recorder released by Cute is an extension for Google Chrome. You can activate the webcam recorder extension to record webcam video quickly.
2. Save webcam recording video to your Google Drive account directly.
The webcam video recorder extension is available for Google Chrome users only.
Part 3: FAQs of Webcam Recorders
How do you record yourself using a webcam?

Open your computer and run any webcam recorder software mentioned above. You can record your face and voice through the computer's camera. By the way, you can capture the desktop activity along with webcam recording as well.

Can you record two webcams at the same time?

Yes. Open the default camera app on your computer. Record a video with this camera app. Then use an external camera connected to your computer. Run a screen recorder to record both computer's screen and external camera. Thus, you can record two webcam videos simultaneously.

What to do if the webcam is not detected?

It your webcam is not working, you can restart your computer to have a try. Then check whether there is any available driver update. You can open Device Manager and Webcam Properties to have a check.
Conclusion
These are highly-recommended webcam video recorders for Windows, Mac and Linux users. You can choose any tool to record webcam with sound on your computer successfully. The standalone webcam recorder software has better output quality and webcam recording controls. If you want to get the best webcam recording experience, you can free download 4Videosoft Screen Capture and have a try. The free trial version is available for all users.