Features of iPad Mini
Apple releases iPad Mini on October 23th, 2012. The iPad Mini is an iPad in almost every way, except the slightly small screen. Generally speaking, it is the best small tablet in the market for its many special features.
The iPad mini will ship on Nov. 2 for Wi-Fi versions, and then come the models with both Wi-Fi and Cellular. It comes in black and in white color. For the price of iPad mini, it is also smaller than the iPad. The price starts from $329 for 16GB Wi-Fi model and $459 for 16GB Wi-Fi + Cellular model, adding 100 dollar each for 32GB version and 64GB version.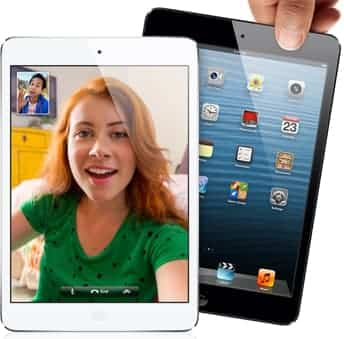 "The iPad mini is every inch an iPad" announced Apple Senior Vice President of Worldwide Marketing Philip Schiller. Then how about the detailed features of the iPad Mini? We will take a sketchy introduction of this new released iPad Mini.
Just as its name, the pencil-thin (0.28 inch) iPad Mini is smaller than the new iPad. It has a 7.9-inch display with the same 1024-by-768 resolution of iPad 2, along with 1.2MP photos and 720p HD video FaceTime HD camera, 5-megapixel iSight camera with 1080p HD video recording, ultrafast wireless (802.11n on 2.4GHz and 5GHz Wi-Fi/ Wi-Fi + Cellular and LTE capability), Lightning connector, and a 10-hour battery life.
Additionally, the iPad Mini runs on the latest iOS 13/14 - the most advanced mobile operating system. And it works well with the iTunes 7. A little disappointment is that iPad Mini is launched with dual-core A5-chip processor instead of the A6X chip with quad-core graphics equipped with the new released iPad (may be we can called it iPad 4). However, in any way, Apple iPad Mini is a big success in the small tablet market, almost no other small versions of tablet can compete with it.