How to Transfer Cassette Tapes to Your Windows and Mac Computer
It is inconvenient to bring cassette tapes or cassette decks everywhere. That's the main reason why cassette tapes decay in the past years. If you want to get an easier solution, you can digitize cassette tapes into audio tracks. By extracting music from a cassette to computer, you can listen to cassette music on your computer, mobile phone and other digital players directly. Thus, you can keep your previous cassette tapes away from scratches, lost and other damages.

Cassette Recorder
Some people use USB cassette converters to convert cassette to MP3 files. You can buy USB cassette to MP3 converters from Amazon and eBay for about $30. However, the output audio quality is reduced. You can hear the difference between the converted cassette tapes and original ones. To make a 1:1 copy of cassette tapes to digital audio files, you can use a cassette recorder. This is a lossless way to transfer cassette tapes to your computer.
Part 1: How to Record and Transfer Cassettes to Your Computer
The entire cassette tape to computer transferring process can be divided into two parts. Connect your cassette deck to computer via cables. Later, you can use cassette recorder software to record cassette tapes on Windows and Mac.
Section 1: How to Connect Cassette to Your Computer
To digitalize cassette tapes without losing quality, you need to connect a cassette tape deck to your computer microphone plug-in outputs. Thus, you can copy cassette to computer without background noise. Here is the tutorial to transfer cassette tapes to your computer.
Step 1Connect the cassette deck to your computer via a 3.5mm cable. For some special cassette decks, you need to use an RCA-to-3.5mm cable or other balanced line outputs.
Step 2There is a line-in jack on your computer. Desktop users can find it in the back or front of the computer tower. As for laptop users, the line-in and line-output jacks are the same.
Step 3Connect your computer and cassette deck with the same 3.5mm cable. For unbalanced cassette decks, plug the red RCA cable into the red port. Then plug the white RCA port into the white port. As for balanced users, you can plug the XLR cable into both inputs of the cassette deck directly.
Step 4Go back to your computer window. Open Sound preferences and adjust the sound level. You can increase the input volume to boost the cassette audio recording.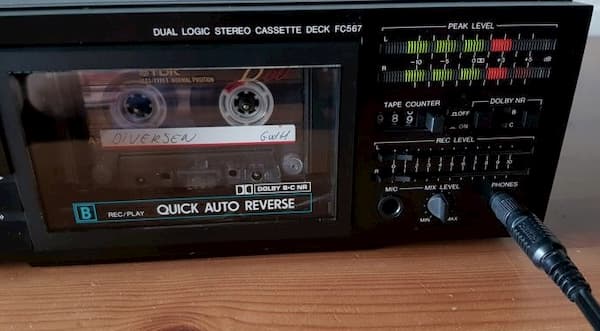 Section 2: How to Record Cassette to MP3
After the preparation, you can record cassette tape to MP3 on your computer losslessly. To fully control the cassette audio recording process, you can use 4Videosoft Screen Capture. The audio recorder software allows users to record cassette audio to your computer as digital files. No quality loss. You can enjoy high-quality cassette music anywhere you want.
Moreover, you can use its built-in task scheduler and audio trimmer to customize the audio length. There is no maximum recording length. So you can record all your cassette tapes into MP3 files. By the way, you can record VHS tapes to computer with 100% quality here too.
4Videosoft Screen Capture
Record cassette tape audio into MP3, M4A, AAC or WMA formats without losing quality.
Schedule audio recording tasks to auto start and stop recording from cassette tapes.
Use hotkeys to record cassette to a computer.
Cut out audio clips to remove unwanted parts before export.
No maximum audio recording length for cassette digitization.
Step 1Free download and install 4Videosoft Screen Capture. Launch the program after the installation. Then choose Audio Recorder in the main interface.

Step 2Turn on System Sound to capture audio as cassette players do. Make sure Microphone is turned off. So you can record cassette music without background noise.

Step 3The default output format is MP3. You can click the Settings icon and then enter into the Output section. Adjust cassette recording settings with Audio format and Audio quality options.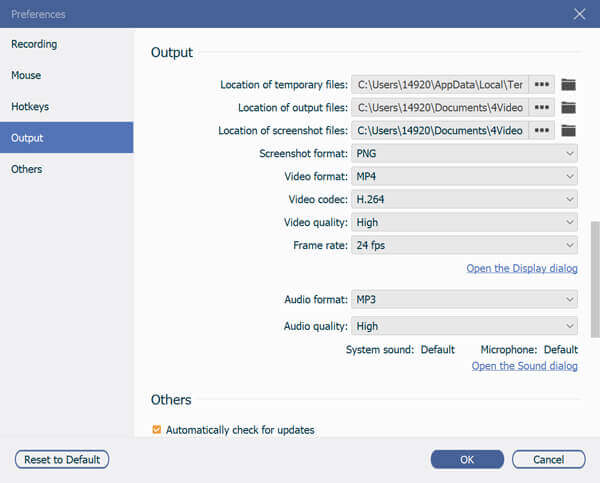 Step 4Play your cassette tapes. Later, click REC to start recording from a cassette tape. You can pause, resume and stop recording with this cassette recorder freely. In the Preview window, pre-listen and trim your digitalized cassette music. At last, click Save to download your recorded cassette tapes.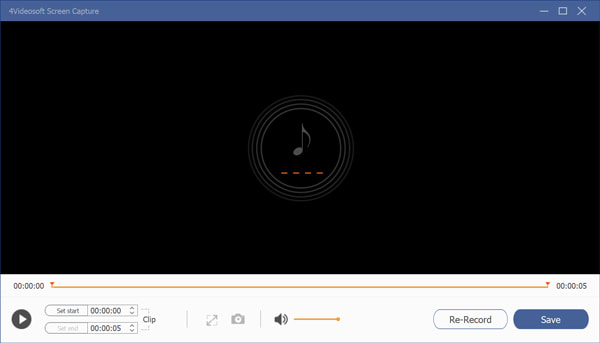 Tips
If you are looking for a free cassette recorder, you can take a look at 4Videosoft Free Online Audio Capture. It is completely free and safe to record cassette tapes to Windows PC and Mac. You can record cassette to MP3 for free online. Though MP3 is the only output format.
Don't miss: How to record a PowerPoint presentation
Part 2: FAQs of Cassette Recorders
Can you transfer cassette to computer with Audacity?

Yes. Connect the cassette player to your computer first. Later, open Audacity. There is a drop-down icon on the top left corner of Audacity. Make sure MME is selected. Then select Internal Microphone (Conexant) from the next list. Press Play in your cassette deck. After that, you can click the Record button to record cassette audio as MP3 by using Audacity.

Can you record cassette tapes to a CD?

Yes. Firstly, follow the above steps to record cassette to computer. Later, insert a blank CD into the optical disc drive. Run iTunes, Windows Media Player and other CD burners to burn cassette to CD on Windows and Mac. (See how to burn MP4 to DVD)

How to record your voice on a cassette?

If your old cassette tape is useless, you can record your voice and rewrite the default cassette songs. Don't press the Play button on your cassette deck. Adjust the volume to the best level. Later, reset your music and pause it. If it fails, you can press the Record button manually.
Conclusion
That's how you record and transfer cassette to computer as digital MP3 files. All kinds of cassette players and tapes are supported. You can build your personal music library with ease. Furthermore, you can extract digital audio from CDs and other music sources successfully. Just free download 4Videosoft Screen Capture and start your free trial right now.