Voice Recording Software – 10 Best Methods to Capture Sound with High Quality
When you want to capture online streaming video, record high quality Skype calls, or even get the audio files from live conferences, what are the best audio recording software you should take into consideration? Whether you need some free audio recorders to capture some simple audio files, or even the professional ones for voices from the online conferences, you can learn more about the 10 best audio recorders from the article.

Audio Recording Software
Part 1: 5 Best Paid Audio Recording Software to Capture Audio Files
Top 1: 4Videosoft Screen Capture
4Videosoft Screen Capture is more than audio recording software, but also a video recorder to capture onscreen activities. It enables you to record system sound, microphone voice as well as other connected device. Moreover, you can also enable you to schedule recordings, tweak the video/audio settings, edit the recorded audio files, and even manage the media files.
4Videosoft Screen Capture
1. Capture files from system audio, built-in microphone and other devices.
2. Tweak the audio codec, audio format, audio volume and other settings.
3. Edit the recorded audio files and trim the file with the start and end point.
4. Manage the recording with preview, delete, and share to social media sites.
Top 2: WavePad
When you want to record and edit the audio file as profession, WavePad is all-in-one audio recording software to capture single and multi-channel recordings with ease. Moreover, it enables you to mix, distort, fade out and equalize tracks.
Pros
Create a bookmark to further edit the audio recording conveniently.
Apply multiple filters and effects, or even remove background noise.
Allows you to add distortion, reverb or delay to your music files.
Cons
It requires additional software to record multi-channel audio files.
Technical support is available only with pricey versions.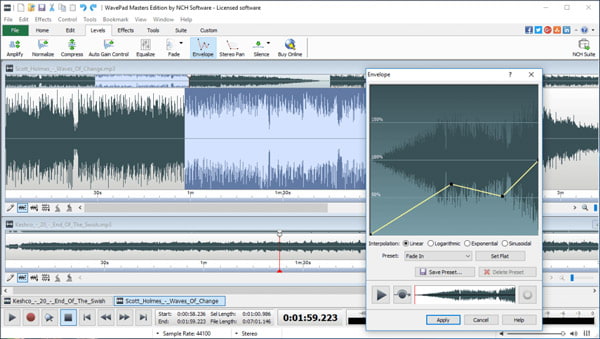 Top 3: Sonar
Sonar is another professional audio recording software to get unlimited audio, MIDI, instrument tracks, sends, and busses without any limitation. Moreover, you can get the same 64-bit audio engine and VST3 plug-in support from Sonar X3 Producer as desired.
Pros
Export and save the recorded audio as MP3, WAV, ASF and more.
Consist of numerous functions like mixers and MIDI keyboards.
Provide virtual machines like samplers, drum machines, and synthesizers.
Cons
Some disparate and outdated elements of the user interface remain.
Skylight UI really needs a 1080P screen to come into its own.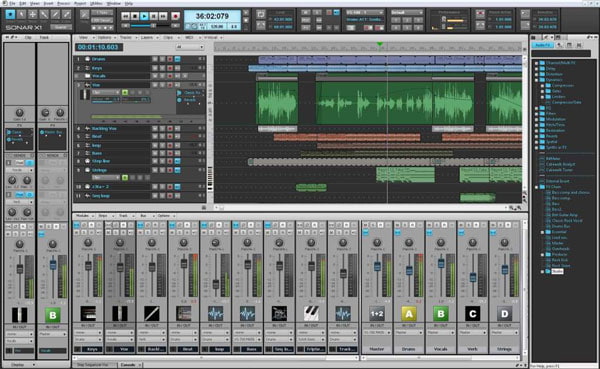 Top 4: Adobe Audition
Adobe Audition is versatile audio recording software that comes with multi-track editing and mixing that make the audio editing experience much easier and efficient. There is multiple of plug-ins, and Adobe even has its very own series of tutorials surrounding Audition.
Pros
Provide Adobe Sensei AI technologies to figure out the audio volume.
Powerful clip editing features, such as mirrored fades, move stacks, etc.
Advanced edit voice-overs, export formats or video related audio tasks.
Cons
It should be too complicated to manage the audio recording for beginners.
Not suitable to reproduce the music files or other files from microphone.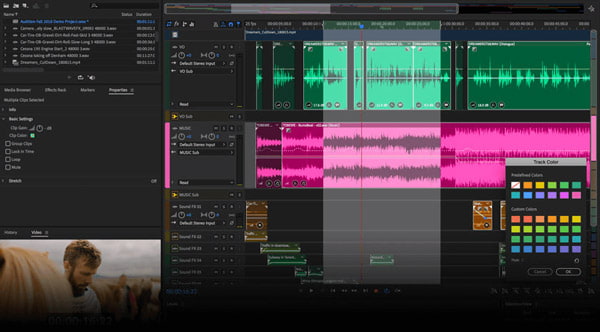 Top 5: Reaper
Reaper is more than audio recording software, but also a powerful and feature rich audio editor with completely customizable user interface. The program comes with support for multiple tracks, and has a remarkable multichannel support with 64 channels in each track.
Pros
Record audio to mono, stereo, or even multichannel audio files.
Capture multiple disks at the same time for data redundancy.
Apply advanced effects in a real time and non-destructive manner.
Cons
It has a complicated user interface that not easy to master.
Cannot edit the audio files within the audio recorder easily.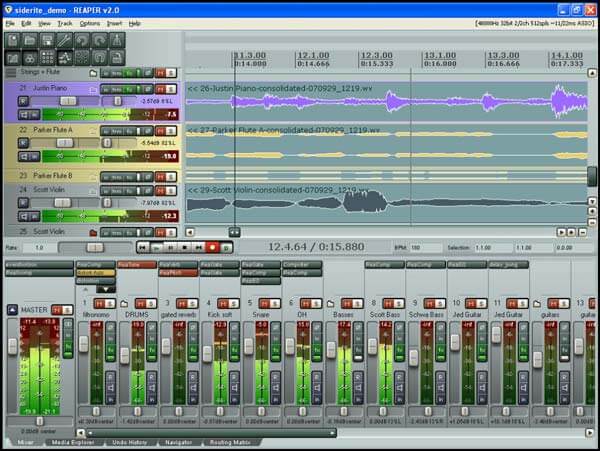 Part 2: 5 Best Free Voice Recording Software to Record Sound Files
Top 6: Audacity
Audacity is one of the most popular free voice recording software, which enables you to record and edit the audio files. It is an ideal choice for recording live audio, such as podcasts or interviews with a clutter-free and straightforward dashboard.
Pros
Record live audio via microphone or mixer within a batch process.
Import, edit and export the recorded files in various file formats.
Multiple editing features available to create professional recordings.
Cons
Multiple bugs exist that make voice recorder software unstable.
Certain aspects are complex to understand and not user-friendly.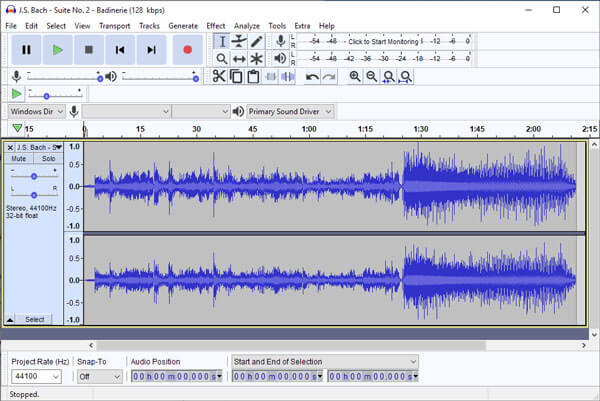 Top 7: GarageBand
GaraBand is a music editor and a voice recorder to record music in a multi-track sound environment. It has advanced multi-track music sequencer to record multiple sound channels in a single song with an intuitive interface packed with essential features.
Pros
Boasts a variety of templates and sound profiles for male/female voices.
Provide bunch of sound filters and audio elements to polish audio files.
Allow you to record audios using a regular or a MIDI keyboard.
Cons
Only enables you to record correction on another track with copy/paste.
Adjust and capture the audio levels do not always go as planned.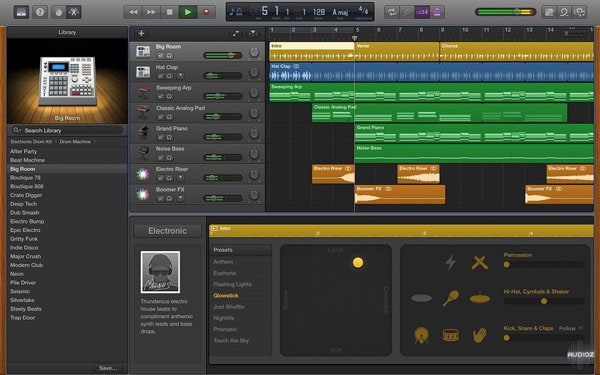 Top 8: Windows Voice Recorder
Windows Voice Recorder is another audio recording software to record, trim, highlight important moments and share audio without any hassles. Moreover, it is also an up-front audio recorder to capture audio files with a microphone within just one click.
Pros
Recorded audios are auto-saved and get stored in the Documents folder.
Features options to playback, trim, rename and delete audio recordings.
It is a free audio recorder available for PC, tablet and Windows phone.
Cons
It does not provide bugs and updates for fixing or improvements.
Cannot set record schedule, silence detection or adjust record quality.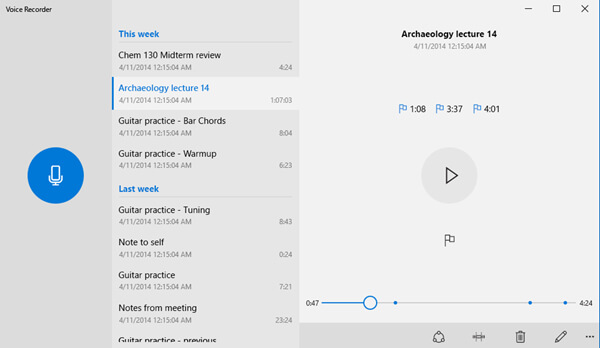 Top 9: Wavosaur
Wavosaur is another free audio recording and editing software for processing and recording sounds. It has advanced enhanced features and functions, which has multiple document interfaces for dealing with multiple files and VST plugin support.
Pros
Process the recorded audio files in WAV and MP3 with advanced filters.
Audio routing, multichannel support, audio sample rate up to 192 KHZ.
Extend the features using the VST plug-ins like compressors and phrases.
Cons
It is audio recording software for Windows operation system only.
Provide simple filters and effects without advanced settings.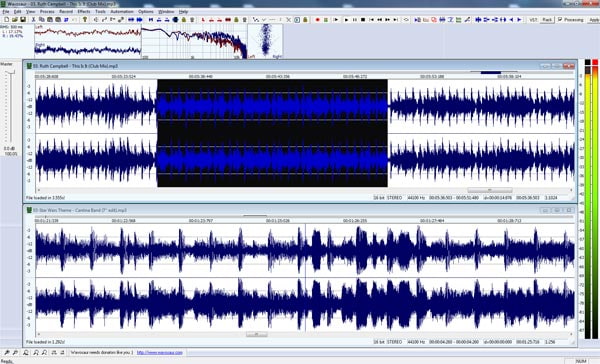 Top 10: Ardour
Ardour is an open source audio recorder available for Mac and Linux. It has a clean user interface that allows you complex mixer routings with multiple sound effects and filters. Moreover, you can also access to the multi-display support.
Pros
Provide multi-track recording feature to capture multiple audio files.
There is no dedicated option to make a looping audio clip.
Advanced capability to create and play virtual midi instruments.
Cons
Lack of built-in effects and filters to apply and trim the recorded files.
It should be difficult to search for a useful plugin for the audio recorder.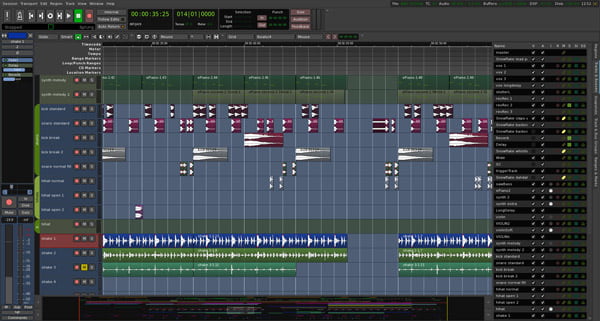 Part 3: FAQs about the Best Audio Recording Software
1. Sound Recording Software V.S. Audio Recorder Device, Which is the Choice?

Which is a better choice when you need to capture professional music files, sound recording software or audio recorder device? Within a limited budget, you can simply choose voice recording software. Moreover, you can also record and edit the recorded audio files without extra software.

2. How Do I Know Which is the Best Audio Recording Software?

If you need to verify audio recording software, you can download the software from the official website. Most of the software provides a trial version that you can capture audio with limitations. After that, you can follow the features and reviews to check whether the software is the one you required.

3. Can I Record Music Files with Audio Recorder Apps on Smartphone?

Of course, you can get dozens of audio recording applications on iPhone or Android phone. But due to the noise and the environment, these apps do not provide professional method to capture the music files you want. If you need to capture the audio from a smartphone, it is recommended to mirror the smartphone to PC/Mac beforehand.
Conclusion
When you need to capture some music files, or voice from online conferences, you can learn more about the 10 best audio recorders from the article. Of course, you can simply download the trial version to get the desired files. 4Videosoft Screen Capture is a desired audio recorder that enables you to capture all onscreen activities with ease.