2 Ways to Record Voice Over Music and Sound Effects Losslessly
If you want to add your voice to a song or video, definitely you should use an audio recorder. You can record not only the original audio track, but also your own voice simultaneously. Moreover, you can add sound effects and background music into your narration as well. Then how to record voice over by yourself? All you need is a computer, then you can do as the following paragraphs show.

Record Voice Over Music
Part 1: How to Record Voice Over Music on Your Computer
To record voice over songs and videos, 4Videosoft Screen Recorder is a good choice. You can record your voice along with streaming audio losslessly. It's okay if you want to make your voiceover louder than music. Just volume down the input system sound, and then volume up the input microphone. Later, you can record voice over music at the same time. Moreover, you can change the output audio format and quality options based on your need. Here is a brief introduction of the audio capture software.
4Videosoft Screen Capture
Record voice with a song, background music and sound effect together.
Customize audio settings before recording voice over music.
Pre-listen and trim your voiceover recording before export.
Use hotkeys to start, pause, resume and stop recording vocals over music.
Save your voice over recording to MP3, M4A, AAC and WMA formats.
Step 1Free download and install 4Videosoft Screen Capture. Launch the audio recording software on your computer. Choose Audio Recorder to mix a narration with background music.

Step 2Turn on System Sound and Microphone options. You can adjust the input volume with sliders below. Well, you can make your voice over louder, or internal audio louder freely.

Step 3Click the Settings icon and go to the Preferences window. Here you can change the output folder, audio format, audio quality and other details. Furthermore, you can go to other sections to specify audio recording preferences as well.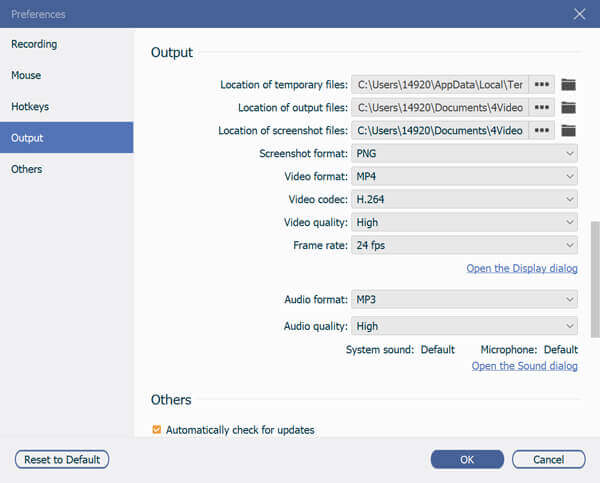 Step 4Play your song or audio effect. Click the REC icon to start recording. Speak close to the microphone. Now you can do voice over on your computer. When you stop recording, you will be in the Preview window. Check if everything goes on well. At last, click Save to export your voiceover narration.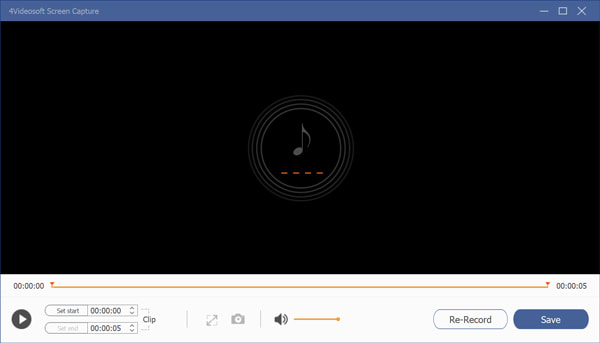 Part 2: How to Record Voice Over Music Online for Free
If you want to quickly add narration to music, you can run 4Videosoft Free Online Audio Capture as well. It is a free online audio recorder that can record not only internal but also external audio at the same time. Thus, you can record voice over at home as well.
1. Record music and voiceover into MP3 format. (Convert MP3 to video here)
2. Capture audio from any websites and microphone.
3. 100% free and safe to use.
4. Clean and intuitive interface.
Step 1Visit the online audio recorder from 4Videosoft site. Click Start Recording and install its launcher.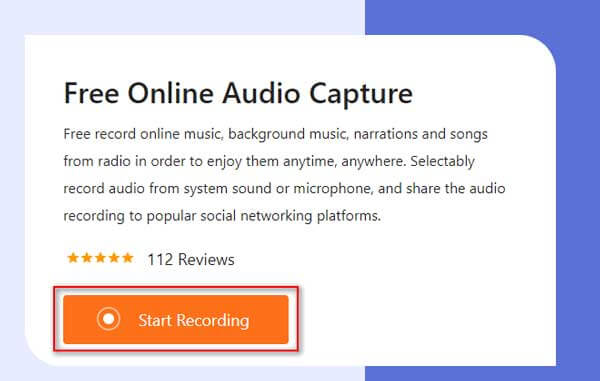 Step 2Enable System Sound and Microphone as input audio sources.

Step 3Click REC to start recording voice over music online for free. When you click Stop, it will save voiceover as MP3 format automatically.

Part 3: FAQs of Recording Your Voice while Playing Music
Can you record audio while playing music on Android?

Yes. Most Android phones and tablets don't have the audio recording feature. Thus, you need to use third-party audio recorder apps to record voice while playing music on Android. For example, VoiceOver is a popular voice over recorder app for Android. You can record voice over with sound effects and background music with ease.

How to record voice over music on iPhone?

For iOS 11 and later users, you can record streaming video and audio with the iOS screen recording feature directly. Some users complain that iPhone disable music playing when you try to record automatically. You can run voice recorder apps to record vocals on iPhone, and then merge with background music. Or you can use desktop voice over recorder to record voice over music successfully.

How to do voice over with Audacity?

Audacity can be your free audio recorder to add a voice over music on Windows and Mac. Run Audacity and complete the setup process. Go to Microphone Properties and volume up computer's microphone. Click Record to record in Audacity while the track is playing. Later, you can delete, silence, fade in, fade out audio tracks with Audacity freely.
All in all, you can record voice over music on your computer with the above two methods. The online and offline audio recorders can record streaming audio without losing quality. If you want to make your voice clear, you can plug an external microphone into your computer. Set it as the input microphone source. Later, you can record and add voice into music successfully.
As for mobile users, the success rate is not high, especially for iOS users. Some recording activities may be detected and blocked. To bypass the limitation, you can free download 4Videosoft Screen Capture and record voiceover on your computer. The free trial is available to all users. By the way, you can add your voice into other music videos, movies and favorite video clips with ease. Just activate its video recorder to record screen video and audio at the same time.