How to Make a Tutorial Video by Recording Your Screen – Here is the Ultimate Guide You Should Know
How to make a video tutorial for YouTube, TikTok and other online streaming sites? Video streaming contents are more popular than ever before, which is a convenient method to share the information. In another word, a video tutorial is essential to both small business and big companies. How to make tutorial videos, especially for recording screen? Here is the ultimate guide you should know before making the tutorial.

Make Video Tutorial
Part 1: The Preparation for Making A Video Tutorial
If you want to make a how-to video for trainings or tutorials, what should you prepare? Just check out the hardware and software preparation for the tutorial videos as below.
Hardware Required for Making Tutorial Videos
1. A computer for making tutorial videos. The good performance, high-resolution screen, and enough storage space computers are important to capture a tutorial video with the desired quality.
2. A microphone for adding narration. The built-in microphone on a computer is usually not good enough. You should have a professional microphone to record narration for a tutorial video.
3. A desired product for recording. Put the target elements you want to use in the video tutorial on desktop, so that you can find the product and other files as quickly as possible.
4. A screen-recording program. Just look for a powerful video tutorial maker to capture screen video, record microphone voice, take snapshots and even tweak the video/audio settings.
5. A pair of headphone to monitor. It is important for recording a tutorial video without interruption. If you have all of the requirements, follow the steps to prepare for your video tutorial.
Software Required for Making Tutorial Videos
1. Plan your video tutorial. You must already have the subject that you want to use when making a video tutorial. If you do not have any idea, research what problems in your community. Then create a storyboard, from how it starts, transition, and end. You can make an outline of your video tutorial. The plan also should include what content to use in each stage.
2: Write down your narration. After you prepare for making the video tutorial, you can write down the narration and script that you want to use. Even if you are a professional host, it is impossible to talk about a product, a program or something else verbally. So, write the narration down and refine it until you are satisfied.
3: Practice the whole tutorial. Then practice the video tutorial including each step and all narration. You can also pre-capture the video tutorial and check the imperfect points.
4. Tutorial explains visually. Just break down the tutorial video to make it easy for your audiences to understand. The more you provide video tutorials that helps your audience solve problems or give fresh education, the more they'll like, comment, or share.
Part 2: How to Make A Tutorial Video by Recording Your Screen
4Videosoft Screen Capture is an all-in-one video tutorial maker to capture all onscreen activities, such as screen video, microphone sound and more other files. It also enables you to tweak the video settings for the tutorial video, add annotation/mouse cursor/watermark, and even edit and manage the recording as your requirement.
4Videosoft Screen Capture
Record a tutorial video with screen video, microphone audio and others.
Add face-cam and microphone voice to a video tutorial as commentary.
Apply annotation, watermark, callouts, texts, lines and other elements.
Tweak the video quality, frame rate, sample rate, audio codec and more.
How to Make a Video Tutorial by Recording Screen
Step 1Download and Install the video tutorial maker, launch the program on your computer. Choose Video Recorder menu to record a tutorial video on PC or Mac. When you need to tweak the video and audio settings, you can click the Gear icon and set up the desired output accordingly.

Step 2Turn on Display and set the recording area, and enable the System Sound menu and adjust the volume. If you add commentary, such as voice and webcam to the video tutorial, enable both the Webcam option and the Microphone option before clicking the REC button.

Step 3During the recording process, you can add text, paintings or shapes on the video tutorial. Moreover, you can also choose the Text icon, set the color, font, size and more, click on the right position and enter the texts. The Camera icon is used to take screenshots for important moment.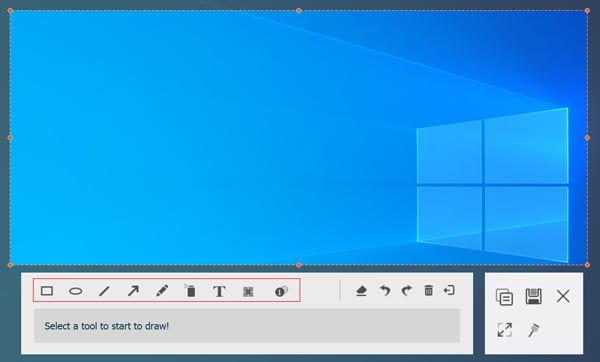 Step 4When the video tutorial is done, click the Stop button to make a tutorial video with screen capturing. Then you can view the video tutorial within the built-in media player directly. If the video tutorial contains unwanted frames, you can set the start and end points to trim the tutorial video.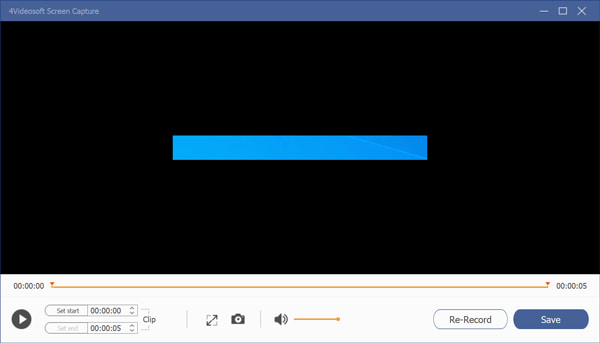 Step 5Once you have clicked the Save button, you can preview the video tutorial, rename the file, add it to another folder, share the file to the social media websites, or delete the file within the Media Library window from your computer directly. (Check how to record FaceTime calls)
Part 3: FAQs about How to Make A Video Guide
1. How to Develop Online Courses?

You need to choose a perfect course topic and make sure it has high market demand. Of course, you should have to write a script beforehand. Then create magnetic and compelling learning outcomes. Select and gather your course content, and structure your course plan. Now, you can make tutorial videos with a screen recorder accordingly.

2. What is The Most Important to Make video tutorials?

Whether you need to create a good video tutorial, or attract audiences from any social media channel you must have a good plan, especially for the key words in the videos. Of course, the video tutorial maker is also important, which determines the video output quality.

3. How to Upload Video Tutorial to YouTube?

Log into your Google account on YouTube. Click on the video icon at the top right side of the window, and choose the Upload Video option. Then press and select the video tutorials you have made. You can upload it to the YouTube account.
Conclusion
When you want to make a tutorial video on your Windows or Mac, you can learn more details about the guide from the article. You should know what are the preparations are required for a video tutorial, how to make a tutorial video, as well as the best tips. 4Videosoft Screen Capture is a versatile screen recorder that capture screen for PC, Mac and even the mirrored iOS/Android screen with the best quality. If you have any query about how to design a tutorial video, you can share more details in the comment.