Top 7 Voice Recorder Apps for Android – Record Voice from Microphone
Your Android phone can be your free portable digital voice recorder. All you need is a voice recorder Android app. Later, you can record interviews, songs, lectures, new ideas, and any other sound into Android directly. The problem is which is your best Android voice recorder app in 2020. There are so many voice recorder apps in the market. If you have no idea which one to choose, you can check the following recommendations for portable voice recorders. Just read and compare to get your best free Android voice recorder app.

Android Voice Recorder
Part 1: Top 7 Android Voice Recorder Apps
These are built-in and third-party voice recorders for Android. You can choose any one for your Android voice recording based on the detailed pros and cons.
Top 1: Rev Voice Recorder
REV is a free voice recorder apk for Android 5.0 and later. You can record voice on Android without ads. Moreover, you can transcribe voice to text for $1.25 per audio minute.
Pros
1. Record lectures, interviews, meetings, and more with good sound quality.
2. The Android voice recorder can record audio in the background. It is also supported to continue recording while your phone goes to sleep.
3. Save Android voice recording files into your computer.
Cons
1. The downloaded voice recording files crash occasionally.
2. Some users download Rev Voice Recorder several times, but the application just cannot be opened.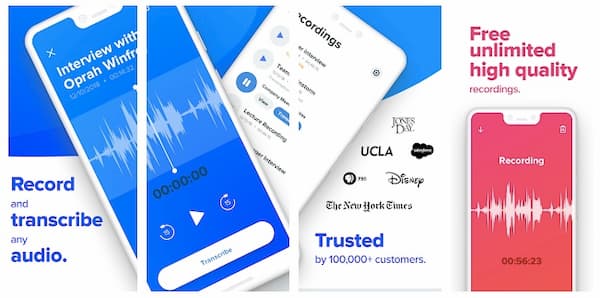 Top 2: Easy Voice Recorder
Easy Voice Recorder is capable to record voice notes, songs, and much more without time limit. If your Android phone doesn't have large storage space, you can set a compressed audio format to reduce file size.
Pros
1. Record voice from your smartwatch.
2. Run in the background while recording voice on Android.
3. Start a new audio recording with widgets and shortcuts quickly.
Cons
1. The free voice recorder Android app contains ads.
2. Easy Voice Recorder is not completely free to use. You need to upgrade to its Pro version to unlock advanced audio recording and editing filters.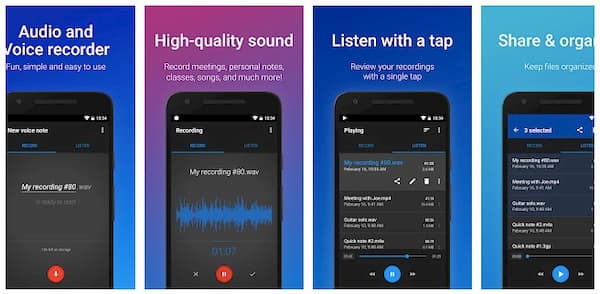 Top 3: Smart Recorder
Smart Recorder is a free voice recorder app with in-app purchases contained. You can record voice through an Android microphone. Moreover, the voice recorder Android apk can work normally in both foreground and background.
Pros
1. Omit relative silence to shorten voice recordings smartly.
2. Record voice on Android in the background with the display off.
3. Support shortcuts to start Android voice recording in one tap.
Cons
1. The Smart Recorder phone call recording feature cannot work on all handsets.
2. The recent Smart Recorder update needs to be improved.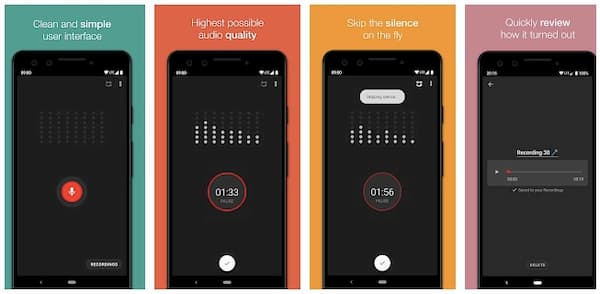 Top 4: Cogi
Cogi is a good note-taking and voice recording app for Android 4.0.3 and later. You can record entire conversations on Android without time limit. Moreover, you can go back to the earlier 45 seconds to record what was already said. So you can record important moments in your life.
Pros
1. Activate the Cogi audio recorder in one tap.
2. Back up all voice recordings into the Cogi Cloud for free.
3. Link photos, add hashtags and text notes into your Android voice recording.
Cons
1. The Cogi stop recording button does not function well.
2. Need to upload your voice recordings to the Cogi cloud before downloading them into digital MP3 files.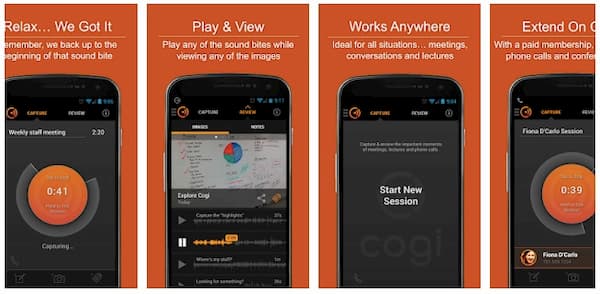 Top 5: Evernote
Evernote is not a pure voice recorder app for Android. You can take, organize, and share notes with others via the Evernote app. But there is a built-in voice recorder in the Evernote free version. So Evernote can be your free sound recorder as well.
Pros
1. Open a note and take a voice note through the built-in Android microphone.
2. Take audio notes quickly within other memos and notebooks.
3. Make your voice notes searchable.
Cons
1. The Evernote free plan allows users to take each note up to 25 minutes. So there is a time limit in this voice recorder free app.
2. Need to upgrade to the Evernote Premium plan to unlock further editing and managing features.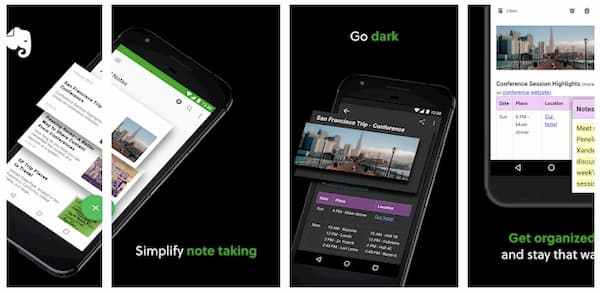 Top 6: Hi-Q MP3 Voice Recorder
Hi-Q MP3 Voice Recorder brings high-quality 44kHz audio sampling. You can record personal voice notes, concerts, lectures, and many other kinds of sound with high quality.
Pros
1. Record and save voice to WAV, OGG, M4A, and FLAC formats.
2. Set the output audio bitrate up to 320 kbps.
3. Upload the recorded audio to Dropbox and Google Drive automatically.
Cons
1. Sometimes the recorded audio file is not playable.
2. Hi-Q MP3 Voice Recorder is not a real free voice recorder app for Android. The maximum time limit of the free version is 10 minutes.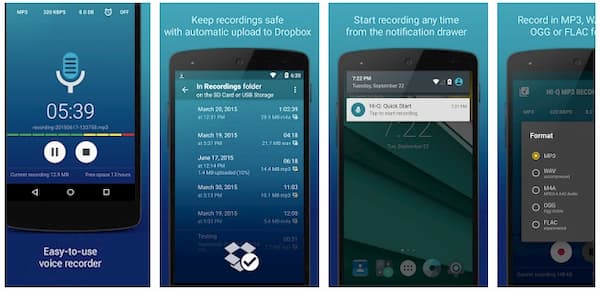 Top 7: Samsung Voice Recorder
Samsung Voice Recorder is the pre-installed voice recorder for some Samsung phones. You can get customizable filters to record and edit audio on Samsung. Moreover, its Voice Memo recording mode can convert your voice into text.
Pros
1. Display dual waveform while recording voice on Android.
2. Record your voice and convert to on-screen text immediately.
3. Support background voice recording.
Cons
1. Samsung Voice Recorder is not compatible with S5, Note4 Android-M.
2. The default Android built-in voice recorder apk stops recording randomly.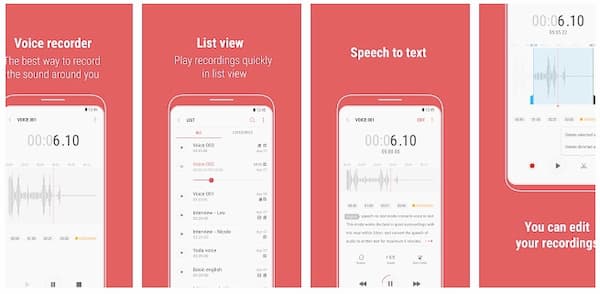 Part 2: 100% Working Way to Record Internal Audio on Android
Not all Android audio recorders can record songs and streaming music into digital files. Once you start recording audio, some music apps can detect and stop playing automatically. If you want to record music losslessly and successfully, 4Videosoft Screen Capture is your first choice. You can record any computer sound and microphone voice without losing quality. It is supported to record songs and playlists from all online and offline platforms. The built-in task schedule can auto start and stop recording audio for hours smartly.
4Videosoft Screen Capture
Record audio from Mac/PC computer and microphone for offline playback.
Adjust audio quality, path folder, hotkey controls, and other preferences before audio recording.
Trim the audio recording file with custom start and stop time.
Save the recorded audio file to MP3, M4A, AAC, or WMA format.
Step 1Launch 4Videosoft Screen Capture after the installation. Choose Audio Recorder in the main interface.

Step 2Trigger on System Sound to record audio from your computer. If you want to record a voiceover, you can turn on Microphone as well. Click REC to start recording audio and voice. You can pause, resume, and stop recording freely.

Step 3If you want to stop recording audio, just click the Stop button. In the Preview window, click Play to pre-listen to the music. At last, click Save to download music into MP3 format.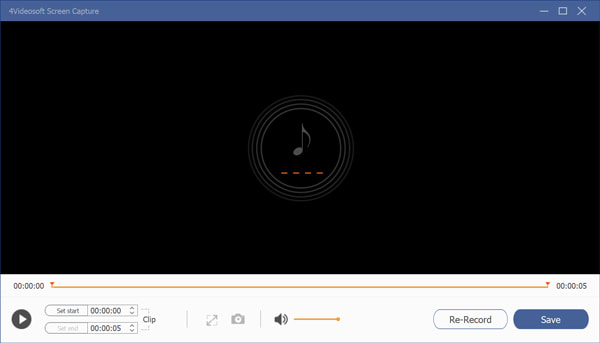 Part 3: FAQs of Voice Recorders for Android
Can you record calls on Android?

Yes. You can use a call recorder to record incoming and outgoing calls on Android, such as Google Voice, Call Recorder, Automatic Call Recorder, etc.

What is the best Android voice recorder for singing?

The above voice recorders are all good to use. If you want to get pro-sounding quality, you can use an external microphone and pay attention to the surroundings. Get the right microphone levels and take several takes.

Why does my voice sound bad in recordings?

It is a common occurrence. Many people think that the recorded audios don't sound like the normal sound. The normal sound you hear is transmitted via air conduction only. Most microphones can't record your voice completely. The recorded audio usually sounds weaker and unnatural.
What is your best voice recorder for Android? You can share in the comments below. By the way, you can free download 4Videosoft Screen Capture to record music and songs. It is a powerful voice recorder for both Windows and Mac. The free trial allows users to record audio up to 3 minutes. If you want to record audio without time limit, you can also try 4Videosoft free Online Audio Capture.